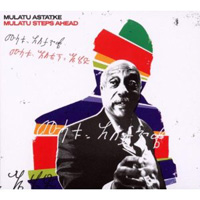 Mulatu Astatke
Mulatu Steps Ahead (Strut 056CD, 2010)
Ethiopian music has seen quite a resurgence in recent years and many good things have resulted. For example, Ethiopia's resident musical genius Mulatu Astatke is more prolific than ever in combining the deeply rooted sounds of his homeland with the complexities of jazz and the dual spirits of Africa and the rest of the world.
On his brilliant new Mulatu Steps Ahead, he collaborates with members of U.K. band The Heliocentrics, Boston's Either/Orchestra and players of traditional Ethiopian instruments to create an album for lovers of jazz, Ethiopian music and nearly every point at which the two might possibly meet.
The disc begins with "Radcliffe," a mood-setter featuring a shadowy trumpet finding its way among a veil of tentatively cautious instruments, casting a spell that's lifted as the disc progresses through the tart Ethiopian textures of "Green Africa," an aural journey unfolding on "The Way to Nice," a meeting of pentatonic scales and Latin spice called "I Faram Gami I Faram," the self-explanatory "Ethio Blues" and the better-than-the-name suggests "Boogaloo."
Throughout the whole thing there's a blend of modern and borderline ancient sounds that's seamless to the point where time, space and musical genres become delightfully impossible to discern or define. Astatke is indeed well ahead of the pack here, and you'll be far too hypnotized to worry about even trying to catch up. Highly recommended.< Buy the album:
Author:
Tom Orr
Tom Orr is a California-based writer whose talent and mental stability are of an equally questionable nature. His hobbies include ignoring trends, striking dramatic poses in front of his ever-tolerant wife and watching helplessly as his kids surpass him in all desirable traits.