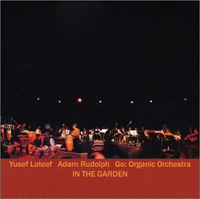 Adam Rudolph's Moving Pictures Octet will perform on Saturday, April 10 of 2010 at City Winery in New York City at 10:00 PM. The venue is located at 155 Varick Street (between Spring & Vandam), New York City.
Grounded in the American improvisational tradition, Adam Rudolph's Moving Pictures Octet embraces musical forms and instrumentation of Europe, Africa, the Middle East, Asia and the African diaspora. Veteran percussionist Adam Rudolph leads an ensemble of artists performing on instruments ranging from West and North African percussion, Middle Eastern oud (lute) and Japanese and Indian flutes to saxophones, clarinets, guitar and banjo. The program features the world premiere of music by Rudolph commissioned by Chamber Music America.
Adam Rudolph's Moving Pictures was formed in 1991 and has performed throughout Europe and the United States. Adam Rudolph (hand drums, thumb pianos, vocal, percussion) is joined by Joseph Bowie (trombone, vocal, harmonica, congas), Graham Haynes (cornet, flugelhorn), Ralph Jones (bass clarinet, flutes, saxophones), Jerome Harris (guitar, vocal), Brahim Fribgane (oud, cajon, bendir), Kenny Wessel (guitar, banjo) and Matt Kilmer (frame drum, djembe) – artists whose wide range of musical experiences include performances with world music ensembles, 20th century chamber groups, and leading artists in the jazz and rhythm & blues fields.
Adam Rudolph, originally from Chicago, has appeared at festivals and concerts throughout North and South America, Europe, Africa, and Japan over the past three decades. Since the 1970s, he has developed his distinctive syncretic approach to hand drums in creative collaborations with many masters of cross-cultural and improvised music such as Sam Rivers, Pharaoh Sanders, L. Shankar, and Fred Anderson.
He is known especially for his innovative small group and duo collaborations with Don Cherry, Jon Hassel, Wadada Leo Smith, and Omar Sosa. In 1988, he began his association with the legendary Yusef Lateef, with whom he has toured worldwide and recorded 14 albums, including the large ensemble collaborations The World At Peace (1995), Beyond the Sky (2000), and In the Garden (2003).
In 2001, Rudolph founded Go: Organic Orchestra, a 22-piece woodwind and percussion ensemble dedicated to developing his compositional and rhythm concepts in a large group format. Rudolph is known as one the early innovators of world music. In 1977, he co-founded the Mandingo Griot Society (with Gambian griot Foday Musa Suso), one of the first bands to combine African and American music.
In 1988, he recorded the first fusion of American and Gnawa (Moroccan) music with sintir player-singer Hassan Hakmoun. Rudolph runs his own Meta Records label, and has received grants and commissions from the Rockefeller Foundation, Meet the Composer, the Mary Flagler Cary Trust, the National Endowment for the Arts, Arts International, the Durfee Foundation, American Composers Forum, and Chamber Music America.
The presentation of Adam Rudolph's Moving Pictures Octet has been made possible with support from Chamber Music America's Presenting Jazz Program, funded through the generosity of the Doris Duke Charitable Foundation. Additional support has been made possible with public support provided by the New York State Council on the Arts, a State agency, and the New York City Department of Cultural Affairs.
Author:
World Music Central News Department
World music news from the editors at World Music Central