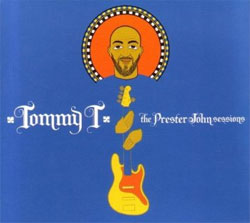 A Podcast compiled by Tommy T, bassist of Gogol Bordello, with music from his recent solo release, 'The Prester John Sessions' (Easy Star Records), plus favorites from his personal collection is now available. The music includes artists like Aster Aweke, once dubbed "the Aretha Franklin of Ethiopia," British reggae group, Aswad, and Michael Rose of Black Uhuru. Tommy concludes with one more track from 'The Prester John Sessions,' "Tribute to a King," dedicating the mix to The King of Ethiopian music, Dr. Tilahun Gesesse.
Tommy T (Thomas T Gobena) has been the bass player for gypsy punk band Gogol Bordello. Tommy was born and raised in Addis Abada (Ethiopia's capital city) and the knowledge of global rhythms he brings to Gogol's sound has become part of their unclassifiable approach to music making. With the encouragement of his Gogol Bordello band mates, Tommy  produced his first solo effort, The Prester John Sessions.
The album is an aural travelogue that ranges freely through the music and culture of Ethiopia, the album is a collection of 11 songs including a remix of the track "Oromo Dub (Cushitic Dub)," featuring fellow Gogol Bordello band mates Eugene Hutz and Pedro Erazo and mixed by Michael Goldwasser of the Easy Star All-Stars.
The podcast is available at drop.io/Tommy_T_podcast
Buy the CD or MP3 download:
Author:
World Music Central News Department
World music news from the editors at World Music Central