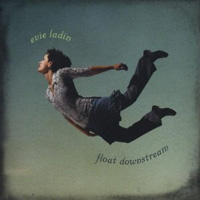 Evie Ladin
Float Downstream (Evie Ladin / Evil Diane, 2010)
The sound of the banjo remains an acquired taste, even given a recent resurgence in the popularity of bluegrass and traditional American music and revelations concerning the instrument's African origins. New Jersey native Evie Ladin's background includes being accomplished in the arts of clogging and body percussion along with elegantly tearing it up on the banjo, and as such she seems to put not only the whole of her emotional self into her playing and singing, but a good measure of physical stamina as well. Thus the music on Float Downstream is engagingly vibrant and energetic, even when the feel is Appalachian melancholy or folkloric shades of the blues.
Apart from a bit of organ in there somewhere, it's an all-acoustic lineup of guitar, mandolin, bass, fiddle, percussion, dobro, cello, tuba and accordion backing Ladin as she plucks her way through tales of love lost and won, times squandered and treasured and backwoods observations that tantalize the heart and put a sway in head, shoulders, hips and feet. For every song that's sparse and reflective, there's a stomper that would fill the floor anywhere from Cajun country to Celtic country.
So is it "world" music? I dunno. But it's got soul, it's a lot of fun and it sticks to you like nobody's business. The disc is a lean 38 minutes in length, so the songs tend to get to the point quickly and succinctly where some could have easily gone on longer and been better off for it. But even though it's brief, it's as blissful as, well, floating downstream. Jump in.
Buy the album at Float Downstream
Author:
Tom Orr
Tom Orr is a California-based writer whose talent and mental stability are of an equally questionable nature. His hobbies include ignoring trends, striking dramatic poses in front of his ever-tolerant wife and watching helplessly as his kids surpass him in all desirable traits.