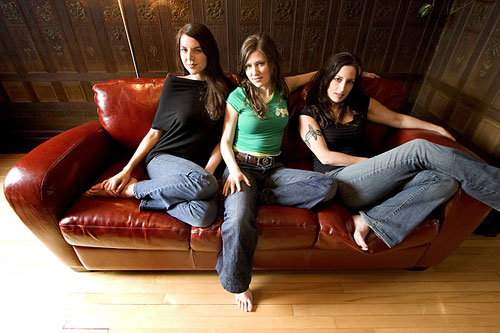 The Wailin' Jennys (WJ) returned with a tour and studio album. The musicians took a sabbatical at the end of 2008 and during that time-out, WJ co-founder Nicky Mehta gave birth to twin sons, the "token American in the group" Heather Masse recorded a solo album titled Bird Song (released on Red House Records) and made multiple appearances on National Public Radio's Prairie Home Companion. The Wailin' Jennys released Live at the Mauch Chunk Opera House in 2009 which gave their current and future fans an earful of a WJ live experience.
The Wailin' Jennys played North American dates starting in February 2010, and this April it kicks off a two-month North American tour (followed by appearances at music festivals), and releases its third studio album (still untitled) to be released on Red House Records. The Wailin' Jennys will also appear on the Prairie Home Companion show, Paramount Theatre, Seattle, Washington on March 27, 2010. The Canadian-American trio returns to the Lincoln Theatre in Mount Vernon, Washington on April 10, with two shows, 3:00 and 8:00 p.m.
According to a press release, The Wailin' Jennys combine three extraordinary voices with "heart-stopping harmonies" that "make new songs feel traditional and old songs sound brand new." Dirty Linen, the foremost US-based folk and world music magazine, has called The Jennys "one of the most exciting and polished acts in folk music." The group is returning to the historic Lincoln Theatre in downtown Mount Vernon during this year's Skagit Valley Tulip Festival for the first time since their sold-out concert in April 2008.
Members of The Wailin' Jennys are soprano Ruth Moody (guitar, banjo, accordion, bodhran), mezzo-soprano Nicky Mehta (guitar, harmonica, ukulele, percussion), alto Heather Masse (upright bass), and instrumentalist Jeremy Penner (fiddle and mandolin).
WJ's spring tour crisscrosses the US and Canada through May.
The Wailin' Jennys Tour Dates
March 27, 2010
(Saturday)
Paramount Theatre – A Prairie Home Companion
911 Pine Street,
Seattle, WA
April 08, 2010
(Thursday)
Aladdin Theater
3017 SE Milwaukie Avenue,
Portland, OR
Time: 8:00 PM
April 09, 2010
(Friday)
Kent-Meridian Performing Arts Center
10020 SE 256th Street,
Kent, WA
Time: 7:30 p.m.
April 10, 2010
(Saturday)
Lincoln Theatre
712 South First Street,
Mt. Vernon, WA
Time: 3pm/8pm
April 11, 2010
(Sunday)
San Juan Community Theater
100 Second Street,
Friday Harbor , WA
Time: 7:30 PM
April 14, 2010
(Wednesday)
Guilford College
Dana Auditorium, 5800 W. Friendly Avenue
Greensboro, NC
Time: 7:30pm
April 15, 2010
(Thursday)
Fletcher Theater
Progress Energy Center Fletcher Opera Theater, 2 E. South St.
Raleigh, NC
Time: 8pm
Tickets: SOLD OUT
April 16, 2010
(Friday)
Lucas Theatre
32 Abercorn Street,
Savannah, GA
Time: 8pm
April 20, 2010
(Tuesday)
The Birchmere
3701 Mt. Vernon Avenue,
Alexandria , VA
Time: 7:30 PM
April 21, 2010
(Wednesday)
Sellersville Theater
Main and Temple Streets,
Sellersville, PA
Time: 8:00 pm
April 22, 2010
(Thursday)
Tarrytown Music Hall
13 Main Street,
Tarrytown, NY
Time: 8:00 PM
April 23, 2010
(Friday)
Calvin Theatre
19 King Street,
Northampton, MA
Time: 8pm
April 24, 2010
(Saturday)
Lebanon Opera House
51 North Park Street,
Lebanon , NH
Time: 7:30 PM
For more tour dates visit The Wailin' Jennys' website http://www.thewailinjennys.com
Author:
PatriciaHerlevi
Patricia Herlevi is a former music journalist turned music researcher. She is especially interested in raising music consciousness. She is looking for an agent and publisher for her book Whole Music (Soul Food for the Mind Body Spirit). She founded and hosts the blog
The Whole Music Experience and has contributed to World Music Central since 2003.