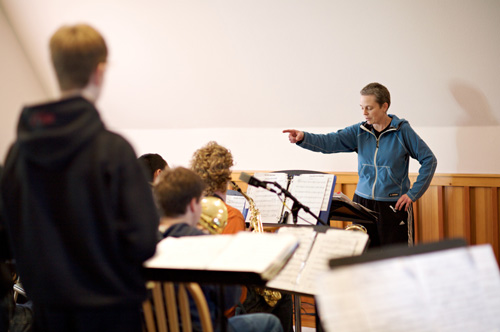 Although society benefits from a high-tech world, many K-12 [kindergarten to 12th grade] school districts in the United States have placed a greater emphasis on math and science skills, than on the arts and music so that students will be able to compete in the high-tech work environment. Some of the smaller school districts lack music programs and other schools that do provide musical programs, do so with a tight and shaky budget in the current economy.
Research presented in books by Neurologist Daniel Levitan (This Is Your Brain on Music), and Don Campbell's 1997 book, The Mozart Effect, demonstrate that musical training in early childhood improves learning skills, especially in math and language. Introducing school children to music appreciation and musical training helps them deal with stress and gives them a positive, creative outlet to express themselves. Give children the beats and keep them off the streets would be a healthy motto to adopt.
LaVenture Middle School (LVMS) in Mount Vernon, Washington provides a variety of creative opportunities for its students including an in-school radio station, a jazz ensemble and 8th grade concert band, among other music outlets, including a world drumming class.
The school's March 2010 newsletter mentioned a recording project for the LaVenture 8th Grade Concert Band and LaVenture Jazz Ensemble. Spearheaded by LVMS Music Director Amy McFeely, a professional musician, the concert band and jazz ensemble will each record 5 pieces at Binary Recording Studio in nearby Bellingham.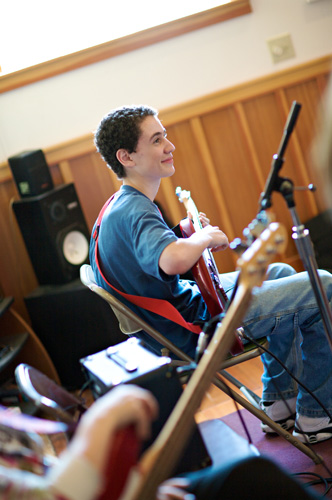 Though not selected yet, the 8th Grade Concert Band's repertoire will include a classic march, classical overture, contemporary and a percussion "street band" piece. The Jazz Ensemble's repertoire will include standard swing, dance tunes and contemporary funk. Both bands are scheduled to record their repertoire on March 25 and spend the day at the recording studio, receiving a small taste of the music industry. And the entire process engages the students in selecting material, recording it and then selling the CDs.
The studio and staff offered the recording facilities to the students and donated partial time for recording and mastering the CDs. According to McFeely, "Binary was recommended to me by Vince Fejeran, another musician in the valley (Skagit Valley). I can't say enough good things about Bob Ridgley (Binary Recording Studio), and his support of young musicians!"
According to the school's newsletter, "Due to time and budget constraints, the students must complete nearly 'one cut' process on each piece with no opportunity to 'cut and paste' tracks. The entire day is a test of focus, endurance and controlling nerves while ignoring the microphone directly in front of their instruments."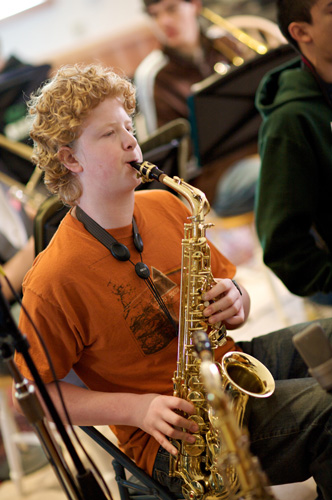 McFeely has been taking her music students into a recording studio environment for a decade and the Mount Vernon School District has provided musical training for much longer. According to the music director, "Our CD project began in 2001. Mount Vernon schools have had school band programs since the earlier part of the 20th century. I don't when they started, but I do know we just celebrated the 50th Anniversary of the All-City Band Festival in May 2009. I started the middle school jazz program however, in 1997, my first year as director of bands at LaVenture."
Her work with some of the students began in their elementary school days and for some of them, this recording project is a culmination of 4 years of studying in the LaVenture Band program. "My 8th graders make a recording every year. I've had some of my students since they were 5th graders in my beginning band program. Some students started band at Centennial Elementary."
The LVMS student recordings are available to friends and family through presale only, from April 5-16th, for $15. Proceeds from the CD sales offset the bands' touring and recording costs. Prior to the recording session, LaVenture Bands Spring Showcase Concert, featuring several of the school's bands, including the 8th Grade Concert Band and the Jazz Ensemble, will be presented on Thursday, March 18th at 7:00 p.m. (See school contact information below).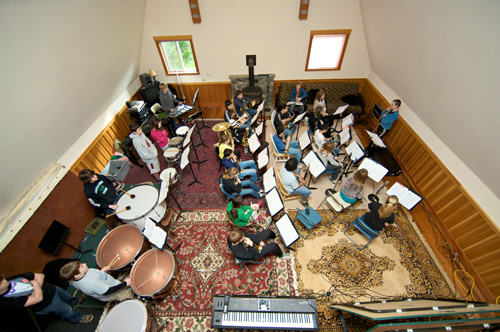 McFeely encourages contributions to keep the band program humming along. "If people would like to donate to help all students have access to wonderful musical opportunities they can send a check made out to 'LaVenture Bands.' We are always on the lookout for gently used instrument donations that will allow a musical opportunity for our students whose families cannot afford an instrument."
La Venture Middle School
1200 LaVenture Road
Mount Vernon, WA 98273
+1 (360) 428-6116
Patricia L. Herlevi hosts the healing music blog, The Whole Music Experience and has been contributing to WMC since 2003. She currently resides in Skagit Valley. Teach children about beats and keep them off the streets.
Author:
PatriciaHerlevi
Patricia Herlevi is a former music journalist turned music researcher. She is especially interested in raising music consciousness. She is looking for an agent and publisher for her book Whole Music (Soul Food for the Mind Body Spirit). She founded and hosts the blog
The Whole Music Experience and has contributed to World Music Central since 2003.