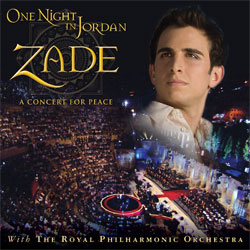 Renowned Jordanian composer and pianist, Zade's new project One Night In Jordan: A Concert for Peace is airing on PBS this month (see schedule below). The monumental concert television event filmed in HD, was one of the biggest concerts ever staged in Jordan. Set at one of the world's largest remaining Roman Amphitheatres in the world, built nearly 2,000 years ago, the composer's epic cinematic music blending East and West draws inspiration from the anthems of the great film composers, his homeland's natural beauty and the efforts of the late King Hussein of Jordan to make peace in the Middle East.
Additionally, Zade has announced the first 2 U.S. concert dates of his summer tour. He will be performing at The Victoria Theater in Newark, New Jersey for a NJN Public Television pledge drive on June 5th and at UCLA (University of California, Los Angeles) for a KOCE Public Television pledge drive on July 3rd.
One Night In Jordan: A Concert for Peace is available on DVD now.
PBS Airing Schedule:
Station Market Date Time
WIPB East Central Indiana Thursday, March 18th 10pm
NHPTV New Hampshire Saturday, March 20 8:00pm
NHPTV New Hampshire Sunday, March 21 9:30pm
WXEL West Palm Beach Monday, March 22 9:30pm
WPBA Atlanta Saturday, March 27 6:30pm
NJN New Jersey Tuesday, April 6 8:00pm
WPBA Atlanta April 16-18 (times to be scheduled)
Zade US Concert Dates:
Newark, NJ Victoria Theater Saturday, June 5th 8PM
Los Angeles, CA Royce Hall/UCLA Saturday, July 3rd 8PM
Tickets for the Newark, NJ show are on sale now available only at charge-by-phone at 1-800-722-6588. For more information visit www.njn.net.
Tickets for the Los Angeles show and more information is available at secure2.convio.net/koce/site/Ecommerce/1071806589?FOLDER=1020&store_id=4001
Author:
World Music Central News Department
World music news from the editors at World Music Central