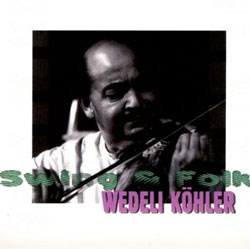 Wedeli Köhler
Swing and Folk (Jazzpoint Records, 2010)
Lingering over that second pot of coffee while brushing the croissant crumbs from your chin and smudging your fingers with Sunday newspaper print just got cooler with Wendeli Köhler's Swing and Folk CD on the Jazzpoint Records. Warm and sumptuous, Swing and Folk dips heavily into the Django Reinhardt swing, as well as Mr. Köhler's background in French swing valse or musette and the darkly mysterious Eastern European Gypsy czardas tradition. Faultlessly recorded, Swing and Folk captures the bright and breezy swing of a Parisian cafe, the lyrical sweetness of Gypsy folk and the passions of a scorned Hungarian lover.
Considered one of Europe's master swing violinists, Mr. Köhler also proves mastery on guitar on Swing and Folk on such tracks as "Nuages" by Django Reinhardt and "Wals de Fantasia," one of Mr. Köhler's own compositions. Opening with the bright and bouncy "Avalon," Swing and Folk proves eclectic in taste with tracks "Somewhere over the Rainbow," "I Got Rhythm" and the dazzlingly wonderful "Zyghanigili & Zimmto Cardas."
Joined by sons Benjamin and Sascha on violin and rhythm guitar respectively, Mr. Köhler is accompanied by Jan Jankeje on bass, Thilo Wagner on piano, Will Lindfors on drums, Peter Gropp on bass, Bruno Reinhardt on bass and Elemer Balough on cymbal. The combination is incendiary as this extraordinary group of musicians dish out the very best swing numbers and spicy Eastern European folk and jazz.
Swing and Folk is marked by silky smooth guitar lines against sharp, shapely violins grounded by bass and lush piano. The passionate "Heycigany" and "Alter Be Tyar" are all fierce beauty, where tracks like the dishy "Sindengo Walzare" and catchy "See You in My Dreams" are breezy swing numbers so listeners get a good mix. My favorites include the melancholic "Wals de Fantasia" with its delicate guitar lines, the snappy, toe-tapping "Fate" and the dreamy "Wien, Wien Nur Du Allein" by Rudolf Siecyski.
Swing and Folk is just the thing to put a little Gypsy swing into your step.
Buy Swing and Folk
Author:
TJ Nelson
TJ Nelson is a regular CD reviewer and editor at World Music Central. She is also a fiction writer. Check out her latest book, Chasing Athena's Shadow.
Set in Pineboro, North Carolina, Chasing Athena's Shadow follows the adventures of Grace, an adult literacy teacher, as she seeks to solve a long forgotten family mystery. Her charmingly dysfunctional family is of little help in her quest. Along with her best friends, an attractive Mexican teacher and an amiable gay chef, Grace must find the one fading memory that holds the key to why Grace's great-grandmother, Athena, shot her husband on the courthouse steps in 1931.
Traversing the line between the Old South and New South, Grace will have to dig into the past to uncover Athena's true crime.