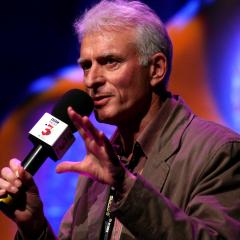 British world music radio presenter, rock historian and record producer Charlie Gillett died this morning, March 17, in London. He was 68. In recent weeks he had a stroke and later a heart attack outside his home.
Charles Thomas Gillett was born February 20th of 1942 in Morecambe, Lancashire. He was an essential figure in the area of world music. He is credited with introducing Cajun and other types of roots music to the U.K. Later, he was one of the pioneers of world music programming in British radio with his "A Foreign Affair" program on Capitol Radio throughout the 1980s, followed by his Radio London BBC program than ran up until recently, as well as other programs like World of Music on BBC World Service and a show on Radio 3.
During the past decade, Gillett compiled world music collections each year that included some of the year's best world music artists, including relatively unknown artists. His 1970 The Sound Of The City: The Rise Of Rock And Roll book is regarded as one of the best books ever written on rock history. It started out as his Master of Arts (MA) thesis at Columbia University.
"For me personally, Charlie was a musical hero, and the inspiration for me, in 1984, to start my long running African radio program. I was lucky to live in London in 1983-84, met him back then, visited his radio show, and some of his live sessions, and started our much valued friendship," said American world music radio producer Jon Kertzer of KEXP 90.3 FM. "Seeing him at concerts, WOMAD festivals, always on the lookout of the best music, and always inquisitive and supportive, Charlie is irreplaceable, and he will be sorely missed."
Charlie Gillett is survived by his wife Buffy, their daughters Suzy and Jody, their son Ivan, and two grandchildren.
More information at:
Author:
World Music Central News Department
World music news from the editors at World Music Central