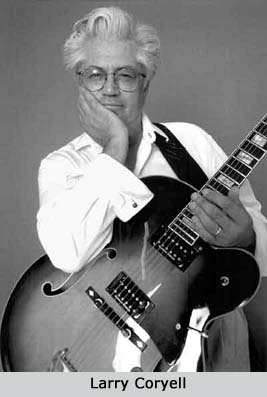 Larry Coryell & Bombay Jazz will be performing Friday, March 19th of 2010 at 8:00 PM at Skirball Center for the Performing Arts, New York University (NYU).
Bombay Jazz, dynamically blending jazz with classical Indian music, is composed of four internationally renowned musicians: master guitarist Larry Coryell, one of the pioneers of jazz-rock; saxophone virtuoso George Brooks; Grammy-nominated bansuri flutist Ronu Majumdar; and the outstanding [wiki:tabla] player Aditya Kalyanpur. The group captures the melodic richness of raga and the powerful rhythmic interplay that is common to both Indian classical music and jazz while developing a harmonic exploration rarely heard in East -West fusions.
Bombay Jazz made its debut performance at the Jazz Yatra in Mumbai, India in 2003, receiving critical and popular acclaim. A whirlwind tour of Europe in the fall of 2004 and US performances in 2005 and 2006 solidified the group's pursuit of compositional and improvisational excellence. In 2007, Britain's Asian Music Circuit presented Bombay Jazz in a 12-city tour of the UK. In 2008, Bombay Jazz again toured the US, with sold-out shows at New York's Jazz Standard.
Larry Coryell, one of the pioneers of jazz-rock, has performed with superstars Eric Clapton, Jimi Hendrix, John McLaughlin, Paco de Lucia, Pat Metheny, and Al Di Meola. He first appeared before Indian audiences in 1982, performing with Shakti. His Indian music collaborations also include Hariprasad Chaurasia, Zakir Hussain, and Dr. L. Subramaniam.
Saxophonist-composer George Brooks, hailed as a leading American voice in Indian jazz fusion, has performed with such notable musicians as Terry Riley, John McLaughlin, Zakir Hussain, Etta James, the Brooklyn Philharmonic, the Kronos Quartet, and Anthony Braxton. His compositions have been performed by Yo-Yo Ma and the Liverpool Philharmonic, and can be heard in Merchant/Ivory films. He has received commissions from the American Composers Forum, Opera Piccola, the Berkeley Jazz School and The SFMOMA.
Ronu Majumdar has performed with Ravi Shankar, George Harrison and guitarist Ry Cooder. In his hands, the bansuri bamboo flute becomes an instrument of tremendous power, virtuosity and versatility. Majumdar co-composed (with Sam Carrdon) the score for the award-winning Imax film, Mystic India.
Aditya Kalyanpur began his studies at the age of five under the guidance of tabla maestros Ustad Allarakha and Zakir Hussain. One of the most promising torchbearers of the Punjab gharana (tradition), he has accompanied many of India's leading artists, including Shivkumar Sharma, Amjad Ali Khan, Sultan Khan, Shahid Parvez, Vishwa Mohan Bhatt, and Shujaat Husain Khan. He teaches at Harvard's Sangeet Music School and has worked with the Rolling Stones and saxophonist Tim Reis.
This program is made possible in part with public support provided by the National Endowment for the Arts, the New York State Council on the Arts, a State agency, and the New York City Department of Cultural Affairs, in partnership with the City Council. Additional support is provided by the Howard Bayne Fund.
Skirball Center for the Performing Arts is located at 566 LaGuardia Place at Washington Square South, New York City. $25; students with college ID $18. Tickets (212) 352-3101 or www.skirballcenter.nyu.edu. Information/tickets (212) 545-7536 http://www.worldmusicinstitute.org.
Author:
World Music Central News Department
World music news from the editors at World Music Central