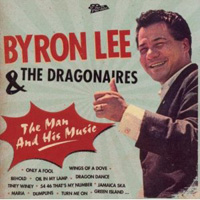 Byron Lee & the Dragonaires
The Man & His Music (17 North Parade VP4165, 2009)
Many a ska, calypso and reggae purist has dismissed the music of late bandleader Byron "Dragon" Lee as lightweight, but the fact of the matter is that Lee and his group (the Dragonaires) put out some good stuff and played a major role in bringing Caribbean sounds to the world. While Lee's half-century career began with his playing a number of uptown Jamaican establishments before having his band deemed slick and professional enough to support such rising stars as Millie Small and Jimmy Cliff at the 1964 World's Fair in New York City, there was enough true roots in the Dragonaires' sound to please those who liked it both smooth and rough.
When it came to the rougher side, Lee and co. were arguably at their best as a backup band. As such, it's the tracks that feature the Dragonaires behind longtime stars like Toots and the Maytals, Stranger Cole, Eric "Monty" Morris and the Mighty Sparrow that come across best on first listening to this two-CD set. There are sequencing irregularities, though: the way discs tend to switch abruptly from vintage ska to much more contemporary-sounding soca (a style Lee began embracing in the mid-'80s) and then back again is a bit jarring.
Lee's versatility is obvious, though it would have been better if those deciding the batting order had kept things more chronological. Despite that head-scratcher (and the fact that a few songs come across like Jamaican elevator music), the 48 tracks here include enough cozy instrumentals, reggae-fied cover versions, classic ska and calypso and waist-winding party tunes to make The Man and His Music a fine overview of Lee's artistry.
Buy the recording:
Author:
Tom Orr
Tom Orr is a California-based writer whose talent and mental stability are of an equally questionable nature. His hobbies include ignoring trends, striking dramatic poses in front of his ever-tolerant wife and watching helplessly as his kids surpass him in all desirable traits.