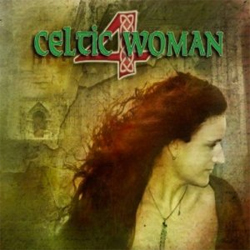 Celtic Woman 4 – Compilation (Valley Entertainment)

Julie Fowlis – Uam (From Me) (Shoeshine Records, 2010)

Altan with R.T. E. Concert Orchestra – 25th Anniversary Celebration (Compass Records, 2010)

When I first discovered Celtic music in College, I made the mistake of thinking that Celtic music only derived from the United Kingdom and Ireland. If Galicia, Brittany, Cape Breton and Quebec were mentioned, it went in one ear and out the other. I remember some viewers of the PBS special River Dance feeling stunned with the inclusion of Spanish flamenco in its Celtic program. Of course, flamenco doesn't possess Celtic roots as far as I know, but Spain boasts Celtic regions in Asturias and Galicia where Celtic music plays a dominant role complete with Spanish bagpipes and other regional instruments.
The compilation recording, Celtic Woman 4 released on Valley Entertainment provides a collection of songs performed by Irish and Scottish women. The songs for the most part fall into the misty-eyed laments that conjure images of green rolling hills framed by rocky shorelines and occasionally fields of lucky clovers.
The vocalists sing in Scottish Gaelic (Julie Fowlis), Gaelic and English (Back of the Moon and Kate Rusby). You won't find any fiery jigs, reels or livelier tunes on this compilation, nor will you find liner notes describing the origins of songs or dialects in which the songs are sung. But anyone seeking a collection of relaxing Celtic songs sung by crème of the crop vocalists will enjoy this lovely excursion to the lush emerald British Isles. And Kate Rusby's heartfelt interpretation of Blooming Heather satisfies any Celtic music craving.
Scottish Gaelic vocalist Julie Fowlis follows up her second CD, Cuilidh with another compelling work, Uam (From Me) that features work and love songs from the Hebrides Islands. Fowlis spreads her wings further on this recording and includes a traditional Highland tune she learned from Cape Breton musician Angus MacKenzie (the "bad boy" of Canadian Celtic music),and a tune from Brittany, France, I Was Born in the Midst of the Sea. She includes original material too.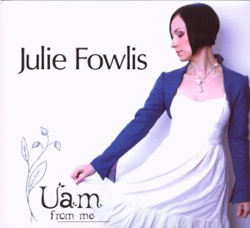 Fowlis frames her gorgeous vocals with whistles, an oboe, bouzouki, fiddle, guitar, Celtic percussion, and a lively array of guest musicians including, Mary Smith (vocals), Allan MacDonald (highland bagpipes and vocals), Phil Cunningham (piano and accordion), Ewen Vernal (double bass), Eddi Reader (vocals), Tom Doorley (flute and whistles), Sharon Shannon (button-accordion), Jerry Douglas (lap steel guitar) and Michelle Fowlis (vocals). The arrangements highlight the chosen repertoire.
Fowlis provides English translations of the lyrics and detailed notes on each of the songs, noting origins and purpose. Tragic love stories interlace with stories about the seas and soothing milking songs that provide nourishment for the milk maid and the cow as well as, lively songs sung by women engaged in the tweed making process (waulking songs).
Uam acts as more than a collection of Scottish folks songs. Fowlis took on the mission of preserving an endangered language and equally endangered musical traditions. Though this recording doesn't possess the earmarks of a field recording and the musicians wield their artistic license by providing their listeners an opportunity to celebrate a rare heritage from the northern British Isles and beyond.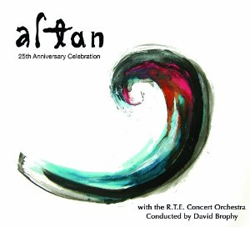 A Scottish Gaelic tune, Mo Ghaoil, also makes an appearance on the Irish sextet Altan's 25th Anniversary Celebration CD. This recording strolls down memory lane, bringing out favorites of the band and performing them over Fiachtra Trench's lush arrangement compliments of R.T.E. Concert Orchestra. Altan, considered one of Ireland's proponents of traditional music delivers the goods here with hearty reels, ethereal ballads and fiery jigs performed on bouzouki (Ciaran Curran), accordion (Dermon Byrne), guitar (Mark Kelly), fiddle and whistles (Ciaran Tourish) and topped by co-founder Mairéad Ní Mhaonaigh's vocals and fiddle.
The orchestration combined with the sextet's passionate performance breaks new ground and sounds spectacular, fresh and even raw in regard to its pioneering spirit. I imagine that fans of Celtic music will jump on this recording in the same manner as Celtic music audiences jumped on the RiverDance concept many years ago. Whether Altan performs gentle ballads such as Cití na gCumann or I Wish My Love was a Red Red Rose, with gorgeous vocal phrasing framed by the orchestra or breaks out into a spritely set of jigs or reels, (Roseville), you can feel passion dripping off of the musicians.
This stroll down memory lane, with a tribute to Ní Mhaonaigh's late husband and flute player, Frankie Kennedy (co-founder of Altan) who died from cancer in the 1990s, reaches across the globe with tunes hailing from as far flung as Canada's Cape Breton and as nearby as Scotland, though most of the repertoire hails from Ireland.
In recent decades the Irish government pumped cultural grants into its traditional music which allowed bands like Altan and Lunasa for instance to bring Irish music to the rest of the world in an uncompromising manner. And Irish musicians have been able to make a living recording and touring, but it's not just about money as Ní Mhaonaigh cites in the press notes, "Now with the recession, I see people being more reflective, and more in touch with who we are in this world, and asking what can we give the world that is different."
I couldn't have expressed it better myself. Altan's music, with its gentle melodies, uplifting instrumentation and lush orchestration brings its gift to the world. And for that, I'm truly grateful and I feel honored to review this anniversary CD. Bonne Anniversaire!
Buy the recordings:
Author:
PatriciaHerlevi
Patricia Herlevi is a former music journalist turned music researcher. She is especially interested in raising music consciousness. She is looking for an agent and publisher for her book Whole Music (Soul Food for the Mind Body Spirit). She founded and hosts the blog
The Whole Music Experience and has contributed to World Music Central since 2003.