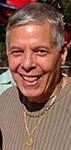 Timbales player Mike Collazo passed away on March 1st, 2010 in New York. He was the renowned set drummer for the Tito Puente Orchesta.
Mike Collazo was a student of the famed timbales player Ublado Nieto. Collazo played with Tito Puente, the Tito Rodriguez Orchestra, Machito, Charanga Band (flute and violin) Orquesta Broadway, Vicentico Valdez, Eddie Palmieri, Ricardo Ray, Vicentico Valdez, and Marcelino Guerra.
I was fortunate enough to see Mike Collazo play with Tito Puente's Orchestra in the 1980's in San Francisco at the St. Francis Hotel, with Tito complimenting on what a great drummer he was as well as timbales player during the band introductions.
Photo courtesy of Michael Collazo, Jr.
Author:
Les Moncada
Les Moncada is a Latin Jazz orchestra leader and conguero for over 40 years. He was born in Oakland, California and currently resides in Sacramento, California.
Les Moncada is a student of conga and batá master Francisco Aguabella, a friend of the late promoter Bill Graham, vibraphonist Cal Tjader, Latin Jazz band leader Pete Escovedo, conguero Mongo Santamaria and many, many more.
He has been writing for many years for World Music Central.
Les has several Facebook sites: Timbales and Congas Bongo Bata & bells; Conguero, Professional Conguero & their Instrument; Bongocero, Professional Bongocero their Instrument; Alambres Dulces, Tres, Cuatro & Laud