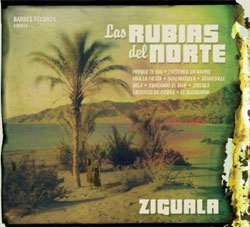 Las Rubias del Norte is releasing Ziguala this week. The group hails from Brooklyn (New York), fronted by vocalists Allyssa Lamb and Emily Hurst, with multi-instrumental backing from a seven-piece ensemble. The band bids farewell, for the most part, to its beloved glockenspiel and brings in some vintage Farfisa organ, hints of distortion, some surf guitar , effect pedals, marimba, vibraphone, Hammond B-3 organ, and a string quartet on a couple of tracks. This instrumentation introduces songs plucked from traditions, from Bollywood to Tex-Mex and Neapolitan folklore.
The title track comes from Greece. "It's originally a Greek song," explains Olivier Conan, a co-founder of Las Rubias, "written in 1955 by rembetika great Manolis Hiotis. His version had strong bluesy feel to it. It was covered in the early 1960s by Greek singer Rena Dalia, who gave it a bit more of a Latin twist. We twisted a little more Latin out of it."
On Ziguala, Las Rubias del Norte are combining Latin music with other unexpected traditions. "There's a lot of that on this album," Conan continues. There's a Bollywood song with a Latin source (fabled Indian composer S.D. Burman's "Mana Janab"), a French song with a Spanish source ("Seguedille," from Bizet's Carmen), a piece from a German composer's French opera ("J'attends un Navire," from Kurt Weill's Marie Galante), a Spanish song made famous by an Anglo-Belgian singer raised in the United States and Spain (Jeanette, of "Porque te Vas" fame) and, of course, Las Rubias using a mostly Latin filter on songs with diverse origin.
Vocalists Hurst and Lamb met as members of the New York Choral Society and got together to sing duets. Unsatisfied with the classical material at hand, they first turned to Lydia Mendoza, the 1930s Mexican legend who was a favorite of Lamb's. Soon enough, they were lending their voices to everything cha-cha-cha, as adept at Mozart as Lecuona, and charming the regulars during engagements at their Brooklyn home base, the music venue Barbès.
"We use Latin music a little bit like the rest of the world uses rock'n'roll," Conan says. "Because before rock'n'roll, there was the clave." Thwe clave is the rhythmic pattern that is the heart of Afro-Cuban music. "But then came rock and roll and the powerful propaganda engine of the American youth movement," Conan says. "Youth was electricity, which meant electric guitars and electric organs. Youth was energy, which meant drum kits. So rock'n'roll became youth and youth around the world emulated it, because nothing beats modern. That was the end of the clave domination outside of Latin America."
Buy the group's recordings
Author:
World Music Central News Department
World music news from the editors at World Music Central