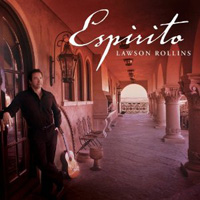 Lawson Rollins
Espirito (Infinita Records INF-204, 2010)
World fusion guitarist Lawson Rollins' 2010 recording "Espirito" provides a global conversation that includes Spanish rumba (flamenco), Persian, Brazilian and Cuban influences. The album boasts a stellar lineup including Iranian spiked fiddle player Kayhan Kalhor (a favorite of mine), Brazilian chanteuse Flora Purim and her percussionist husband, Airto Moreira, violinist Charlie Bisharat and Cuban bassist Randy Tico.
The project could only be called ambitious filled with virtuoso performances, but for me, there's too much musically going on and I feel dizzy trying to figure it all out. Also rapid-fire guitar runs (which appear throughout this recording) have never interested me. I can handle fiery playing in Classical Indian music and that's about the extent of it.
The opener, "Rumba del Sol" reminds me of a guitar duo I haven't heard in over a decade, Strunz and Farah. The flamenco fire presents itself, but so does an easy-listening quality. The Brazilian piece, "Moonlight Samba" has a warm feel to it, but I wish on this track the guitar was more laid back (think Celso Fonseca), and capturing Brazil more. "Café La Martinique" provides a gentle swinging violin over a lilting accordion and the guitar slows down. "Footprints," a ballad with a more simple production approach offers a lovely respite. And the "Caravan Trilogy" provides a conceptual composition with a blend of Oriental and Western instruments.
Overall though I feel like the musicians tried too hard on this one and brought in too many musical genres that don't easily blend. And while combining Arabic, Spanish and Cuban might be intellectually stimulating and even exciting to a lot of folks, that combination doesn't work for me on an emotional level. I would have enjoyed hearing a more linear approach, a Brazilian samba as a Brazilian samba and perhaps a Cuban son or two thrown into the mix or just a blend of Arabic, Persian and Andalusian for the entire album. World fusion albums don't usually work in my opinion. There are exceptions, but for the most part I try not to review them because when too many scales, modes and performance styles get thrown together, I often end up with a headache.
Buy the recordings:
Author:
PatriciaHerlevi
Patricia Herlevi is a former music journalist turned music researcher. She is especially interested in raising music consciousness. She is looking for an agent and publisher for her book Whole Music (Soul Food for the Mind Body Spirit). She founded and hosts the blog
The Whole Music Experience and has contributed to World Music Central since 2003.