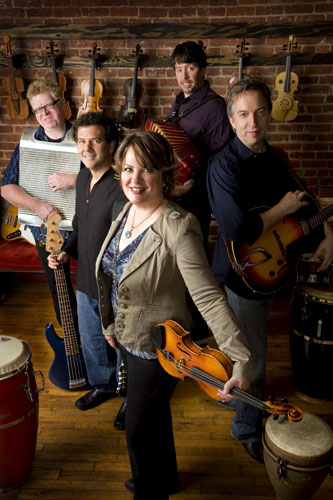 Virtuoso Celtic fiddler Eileen Ivers—founding member of Cherish the Ladies, original Riverdance star, and lifelong traveler of Ireland's musical paths—brings to light the riveting world of Irish stories and sounds.
Ivers is mapping out these compelling tracks for audiences across North America with a new multimedia concert, Beyond the Bog Road. The images, sounds, and tales of Irish immigrants' desperate and daring journeys to and in America come together in Ivers' stunning technique, unique artistry, and deep Irish-American roots. Ivers and her ensemble of 13 musicians and dancers will be performing in Florida, Utah, New Hampshire, Georgia, Virginia, North Carolina, and Pennsylvania.
"Irish music integrated with other North American music to form the root of everything from bluegrass to country," explains Ivers. "This was one of the richest cross-fertilizations of folk music styles anywhere. And it's still bearing fruit."
Ivers has lived and breathed this cross-fertilization and its musical outgrowths from birth. She grew up in the Bronx, the daughter of Irish immigrants, raised on the music of her parents' homeland. With a talent for mathematics—a field in which she pursued post-graduate studies—Ivers learned how to combine heart and passion with incredible technical precision. Her prowess with the fiddle won her not only nine All-Ireland Fiddle Championships, but also the admiration of musicians from Sting to The Chieftains to the Cleveland Symphony Orchestra, among her many affiliations.
Buy Eileen Ivers' albums:
Eileen Ivers, Beyond the Bog Road Tour: Tour Schedule
03/01/2010, Mon
Logan, UT Cache Valley Center for the Arts, 43 South Main
Tix: $32.00/28.00/26.00/21.00, Doors Open: 7.00 PM, Show: 7:30 pm
Ph: 413.448.8084
03/02/2010, Tue
Logan, UT Cache Valley Center for the Arts, 43 South Main
Tix: $32.00/28.00/26.00/21.00, Doors Open: 7.00 PM, Show: 7:30 pm
Ph: 413.448.8084
03/03/2010, Wed
Salt Lake City, UT Kingsbury Hall University of Utah, 1395 E. Presidents Circle
Tix: $49.50/45.50/35.50/25.50, Show: 7:30 pm
Ph: 801.581.6261
03/05/2010, Fri
Kansas City, MO Irish Museum and Cultural Center – The Muehlebach Towers, 200 West 12th Street
Show: 9:00 PM
Phone: 816-474-3848
03/07/2010, Sun
Columbia, MO Missouri Theatre Center for the Arts, 203 S. Ninth Street
Tix: $32.00/25.00, Doors Open: 7:00 PM, Show: 8:00 PM
Phone: 573-875-0600
03/11/2010, Thu
Albany, GA Albany Municipal Auditorium, 200 North Jackson Street
Doors Open: 6.30 PM, Show: 7:30 pm
Ph: 229.317.6799
03/12/2010, Fri
Atlanta, GA Ferst Center for the Arts Georgia Institute of Technology, 349 Ferst Drive NW
Tix: $42.00/32.00/20.00, Doors Open: 7.00 PM, Show: 8:00 pm
Ph: 404.894.9600
03/14/2010, Sun
Fairfax, VA Center for the Arts George Mason University, 4400 University Dr., MS 2F5
Tix: $44.00/36.00/22.00, Doors Open: 3.00 PM, Show: 4:00 PM
Ph: 703.993.2787
03/15/2010, Mon
Richmond, VA Carpenter Theatre at Richmond CenterStage Richmond University, 600 E. Grace St., Suite 400
Tix: $38.00/36.00 Senior/ 19.00 Child, Doors Open: 6.30 PM, Show: 7:30 PM
Ph: 804.592.3400
03/17/2010, Wed
Chapel Hill, NC Memorial Hall University of North Carolina, Cameron Avenue, CB#3276
Tix: $75.00/55.00/40.00/30.00, Doors Open: 6.30 PM, Show: 7:30 PM
Ph: 919.843.3333
03/19/2010, Fri
University Park, PA Eisenhower Auditorium Pennsylvania State University, Eisenhower Rd
Tix: $30.00/24.00/20.00, Show: 7:30 pm
Ph: 814.863.0255
03/20/2010, Sat
Sellersville, PA The Sellersville Theater 1894, 24 Temple Avenue
Tix: $42.50/30.50, Doors Open: 7:00 PM, Show: 8:00 PM
Phone: 215-257-5808
03/25/2010, Thu
East Lansing, MI Wharton Center for the Performing Arts @ Michigan State University, Bogue Street and Wilson
Tix: $25.00/20.00/15.00, Doors Open: 7.00 PM, Show: 7:30 PM
Phone: 517-432-1000
04/03/2010, Sat
Monroe Township, NJ Richard P. Marasco Theatre for the Performing Arts, 1629 Perrineville Road
Tix: $20.00/18.00, Doors Open: 7.00 PM, Show: 8:00 PM
Phone: 732-521-4400 x134
Author:
World Music Central News Department
World music news from the editors at World Music Central