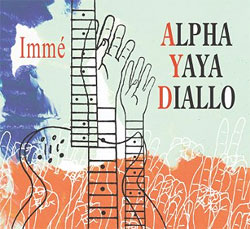 Alpha Yaya Diallo
Immé (Jericho Beach Music, 2010)
Guinean born singer, guitarist and composer Alpha Yaya Diallo has racked up another 11 glorious tracks on Immé, his sixth solo recording now out on the Jericho Beach Music label. This three-time Juno award winner has won over fans from all over the globe, including those in his adopted home of Canada.
The former leader of the group Fatala, Mr. Diallo has continued to wow fans with his solo career and such recordings as Message, Djama, Aduna and Journey. Taking his social responsibilities seriously, Mr. Diallo turned his talent to working with the United Nations on their campaign to raise awareness of HIV/AIDS, poverty and debt relief in Africa with his 2007 work "Imme Africa/Get Up Africa."
On Immé, Mr. Diallo fortifies his sound with friend and African Guitar Summit drummer Kofi Ackah, goni player Sekou Dioubate and guitarist and fellow Guinean Doura Barry. Creating a kaleidoscope of sound on Immé, Mr. Diallo and friends turn this recording into a powerhouse of densely packed guitar lines, African rhythms and Mr. Diallo's soaring vocals. Opening title track " Immé" is marked by leggy guitar lines, easy keyboards and Mr. Diallo's plaintive vocals that could easily find a home on a pop chart as it would on any world music chart.
Brightly colored "Sara" works on so many levels with shimmering guitar lines and plucky rhythms that it speaks to the best of Mr. Diallo's infectious compositions. "The Climate Is the Heart," co-written with environmentalist Sanjay Khanna, is a wonderful romp, incorporating Mr. Diallo's sense of social responsibility and the direness of world problems.
Other stand out tracks on Immé include the guitar play on "G'nife Papa," "M'ma Love" with its sultry rhythms and the catchy "Immigration." "Wondigal," co-written with Mr. Barry, is one of my personal favorites with its exceptional guitar lines, dashes of harmonica and dishy strings, but "Sibhé" is a close second for the sheer joie de vivre of twangy guitar goodness that leaks from the speakers.
Immé is superbly polished and infectiously delightful.
Buy the album on CD or MP3:
Author:
TJ Nelson
TJ Nelson is a regular CD reviewer and editor at World Music Central. She is also a fiction writer. Check out her latest book, Chasing Athena's Shadow.
Set in Pineboro, North Carolina, Chasing Athena's Shadow follows the adventures of Grace, an adult literacy teacher, as she seeks to solve a long forgotten family mystery. Her charmingly dysfunctional family is of little help in her quest. Along with her best friends, an attractive Mexican teacher and an amiable gay chef, Grace must find the one fading memory that holds the key to why Grace's great-grandmother, Athena, shot her husband on the courthouse steps in 1931.
Traversing the line between the Old South and New South, Grace will have to dig into the past to uncover Athena's true crime.