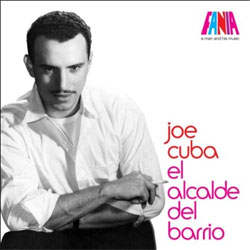 Fania Records has releases a deluxe 2-disc, 34-track box set of the father of Latin Boogaloo, Joe Cuba. This album commemorates one-year after the passing of this legendary musician. Joe Cuba: A Man and His Music – El Alcalde Del Barrio is a two-disc compilation with an accurate assemblage of his recordings never previously compiled in album form. Featuring his international hits "Bang Bang" and "El Pito (I'll Never Go Back to Georgia)," and many other diverse numbers that spanned his illustrious career, carefully selected and researched by Latin music veteran and prominent producer Bobby Marín.
Joe Cuba's music embodied a perfect balance of sounds and lyrics (both in English and Spanish) that appealed to both Anglo listeners as well as his core Latin devotees. After listening to songs like "Swinging Mambo" you can hear how the "mayor of the barrio" infiltrated into the Jewish and Italian markets in New York and eventually nationwide. As architect of the Joe Cuba sound, Joe was adept at creating pure excitement in all of his 240 recorded titles. Few entertainers can claim to have performed at Carnegie Hall, the Apollo Theater, Hollywood Palladium, Madison Square Garden, and the Caribbean Pavilion at the 1964 World's Fair, but Joe certainly could.
Joe Cuba (Gilberto Navarro) was born on April 22, 1931, in Spanish Harlem, New York City, where his Puerto Rican parents moved in the late '20's. Captivated by the conga playing of Sabu Martínez, Gilbert took the opportunity to learn the instrument while recovering from a broken leg suffered playing stickball. Gilbert jammed in the street until given the chance to replace Sabu for a few months as part of a local band, La Alfarona, X in 1950. Shortly after, he joined Spanish Harlem's Joe Panama Quintet, where Jimmy Sabater was a timbales player. After recruiting vibraphonist Tommy Berrios, Gilbert and the band had a falling out with Panama and formed the Cha Cha Boys with Gilbert Calderón as the bandleader. Much to his surprise, Gilbert would soon be billed as "Joe Cuba" by his promoter, Catalino Rolón, and the name would stick.
A generation of Hispanics growing up in Spanish Harlem in the 1960's were influenced by their parents more traditional musical tastes, but adapted and combined it with the R&B and Bebop of the time to create their own unique style, which became known as Boogaloo. Joe Cuba was instrumental in the development of boogaloo and had the biggest hit of the 60s with "Bang Bang," which achieved unprecedented success for Latin music in the US in 1966 when it sold over one million copies. Joe's pivotal role in the boogaloo style had him nicknamed the "Father of Latin Boogaloo," and his leadership in the community had him coined rightfully so, "the mayor of the barrio" (El Alcalde Del Barrio).
Joe Cuba led an extraordinary life and left behind a legacy of wonderful music for us to take pleasure in, as you will discover upon listening to this album. His presence will be eternally missed, but his spirit remains with those fortunate to have known him.
These tracks have been digitally remastered from the original master tapes. The deluxe set includes a 32-page booklet with extensive liner notes in English and Spanish written by Bobby Marín, never-seen photos, and the album covers of Cuba's great recordings. The set joins The Man and His Music series that has featured such artists as Tito Rodríguez, Celia Cruz, Hector Lavoe, Willie Colón, and Rubén Blades, all on the Fania label, whose catalog Código Music recently acquired. Joe Cuba: A Man and His Music is the second release in this series from Código Music.
Buy the recording:
Author:
World Music Central News Department
World music news from the editors at World Music Central