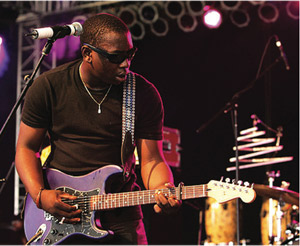 From 25-27 March, the 6th edition of Babel Music Med will host a unique event in Marseilles (France) by gathering world music professionals from all over the globe to discuss and deliberate the economic and cultural aspects of the industry. This international music forum takes place at the baroque and wonderful venue, Dock des Suds. It will be 3 days and 3 nights of unforgettable concerts and fruitful meetings with professionals.

For 5 years Babel Med Music has established itself in the international scene with economic and cultural meetings dedicated to world music. Based on an original concept, this event unites more than 2,000 key players in the industry to give talks and exchange ideas (programming managers, tour managers, producers, media, artists, agents), as well as emerging innovators of music from the four corners of the world.
With a huge increase in attendance in 2009 (more than 30%) this international forum is one of the biggest gatherings of professionals involved in live music. This year, the delegates come from Korea, Australia, United States, Great Britain, Germany and ACP festivals (Africa, The Caribbean and the Pacific, joining Tanzania, Jamaica, Vanuatu), as well as networks from the Indian Ocean, Central America and from Nomex (including all the Scandinavian export offices).
A space to facilitate professional encounters, with a human edge, Babel Med Music is considered a laboratory of thought, a think tank, combining roundtable discussions and debates on the difficulties faced in the world music scene. The conferences look for solutions and the best approach to social issues such as green festivals, and music deals dependant on the digital revolution. To conclude the 3 days of enriching meeting and collaborations (more than 800 contracts signed in 2009) prizes will be awarded to major artists in a convivial market space set aside for music trade professionals.
Showcases scheduled:
Axel Krygier (Argentina)
Papa Wemba (Democratic Republic of Congo)
Lo Cor De La Plana (Provence-Alps-Côte d'Azur Region – Occitania)
El Hijo De La Cumbia (Argentina)
Nass Makan (Egypt)
Dorantes (Andalusia, Spain)
Skaïdi (Norway)
Angelique Ionatos & Katerina Fotinaki (Greece)
Sevda (Azerbaijan)
Urbanswing Sound System (Provence-Alps-Côte d'Azur Region)
Insingizi (Zimbabwe)
Alex (Reunion Island)
Oneira 6tet (Provence-Alpes-Côte d'Azur Region – Iran – Greece)
William Vivanco (Cuba)
Zorteil (Reunion Island)
Les Espoirs De Coronthie (Guinea)
Mami Bastah (Madagascar)
Amazigh (Algeria – France)
Haoussa (Morocco)
3Canal (Trinidad & Tobago)
Yemen Blues (Israel – Yemen)
Gevende (Istanbul, Turkey)
Vieux Farka Toure (Mali)
Fanfarai (Algeria-Paris)
DJ Ipek (Berlin – Istanbul)
Kamlinn (Morocco – Réunion Island)
Cuncordu E Tenore De Orosei (Sardinia, Italy)
Christina Rosmini (Provence-Alps-Côte d'Azur Region)
Chants De La Mer Noire (Provence-Alps-Côte d'Azur Region)
Author:
World Music Central News Department
World music news from the editors at World Music Central