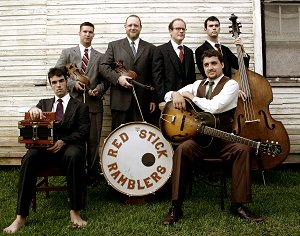 Red Stick Ramblers will perform at Music Hall on Friday, February 26 at 8 p.m. at the University of Wisconsin in Madison, Wisconsin. The Red Stick Ramblers mix Western-style tunes with spicy Cajun and Creole sounds. To keep things interesting, they add in some Gypsy ballads, speed things up with flamenco tangos, and mix in some honky-tonk blues.
These Louisiana natives stay true to their roots by incorporating classical Cajun music and dialect. Their high energy music is a throwback to a small southern town in the 1920s, a tradition that is important to the band as they continue to redefine Cajun music.
Their latest album, My Suitcase Is Always Packed, is a perfect example of the diversity of influences that create the collective soul of this band. Red Stick Ramblers' guitarist Chas Justus says, "There's a cultural identity here, which is something that is getting harder and harder to find. We try to represent that identity, that authenticity."
This concert is sponsored by the Wisconsin Union Directorate. Support is also given by ETC, Maximum Ink, Porter and Lou Butts Theater Fund, The Onion, Wisconsin Arts Board, Wisconsin Union Theater Endowment Fund, WORT 89.9 FM, and Wisconsin Public Radio. Presenting Partner are Cajun Strangers and Prairie Bayou Cajun Band.
Buy the group's recordings:
Tickets for the performance are $22. UW-Student tickets are only $10! Tickets can be purchased by phone (608-265-ARTS), by fax (608-265-5084), by mail or in person at the box office: Wisconsin Union Theater, 800 Langdon St., Madison, WI 53706. or online here: uniontheater.wisc.edu.
Author:
World Music Central News Department
World music news from the editors at World Music Central