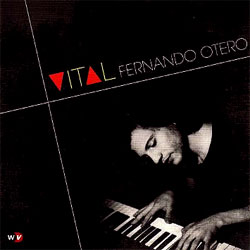 Fernando Otero
Vital (World Village, 2010)
I'm not sure how to describe Argentine pianist Fernando Otero's "Vital". Various nods and references appear in the press notes including ones to movie soundtrack composer Bernard Hermann (think Hitchcock's "Psycho"), and classical music composers Bartók and Stravinsky as well as, jazz be bop legend Charlie Parker. I would add Russian composer Prokofiev's kinetic compositions to the list. The cartoon music reference works as well in describing this indescribable music. But the post modern repertoire on "Vital", with its "jagged edges" and nuevo tango tossed in, doesn't sit well with me.
I probably should have read the press notes in more detail before agreeing to review the CD. I was expected Latin chamber jazz with sweeping melodies, virtuosic passages (think Paquito D'Rivera or Michel Camilo in "Calle 54") and I was expecting sweeter conversations between the piano and other instruments. And there are moments like that on the track, "La Abundancia" with a lyrical exchange between the piano and violin. I recall Piazzolla on that track, but even the late Argentine founder of nuevo tango had his dissonant moments.
No doubt "Vital" will be a hit with the experimental classical and jazz performers and audiences. Fans of Scriabin, Prokofiev, Stravinsky and Bartók will feel at home this recording. Otero possesses a virtuosic talent and imagination that allows him to venture into new territories. The problem for me is that dissonant music causes my sensitive nerves to stand on end. Call me old fashion, but I long for sweeping Latin melodies and music that resonate well with my body. I respect and admire the Argentine pianist passion for experimental music and his talent. However, the saying "to each his own" comes to my mind.
Buy the group's recordings
Author:
PatriciaHerlevi
Patricia Herlevi is a former music journalist turned music researcher. She is especially interested in raising music consciousness. She is looking for an agent and publisher for her book Whole Music (Soul Food for the Mind Body Spirit). She founded and hosts the blog
The Whole Music Experience and has contributed to World Music Central since 2003.