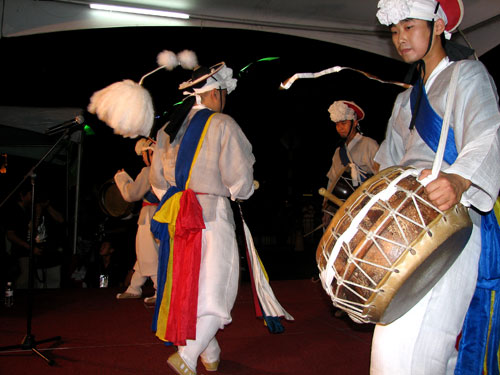 Korea's Noreum Machi ensemble will perform Saturday, February 6th of 2010 at 8:00 pm at Peter Norton Symphony Space in New York. The group has been noted for its performances of the dynamic samulnori percussion music that has captivated audiences throughout the world over the past three decades. An exhilarating modern adaptation of the ancient p'ungmul nori harvest celebration, samulnori represents the soul of Korea.
Noreum Machi is led by Kim Ju Hong, who studied singing, shaman rhythms and pansori vocals with masters of their genres, including Kim Duk Soo, an original member of the renowned Samul-Nori ensemble that introduced samulnori to the West in the late 1970s.
In the early 20th century with the end of dynastic rule, court music was disappearing in Korea, while p'ungmul nori, a folk medium with origins in shamanism and animism, was maintained in the villages and rural areas. After the 1961 military coup and throughout the latter half of the 20th century, students throughout Korea employed p'ungmul nori as a medium to empower the masses and demonstrate against the authoritarian government.
Korean traditional music was fast fading in the wake of the onslaught of Western music – both pop and classical. The Samul-Nori ensemble, with its emphasis on percussion, dramatically changed the way that Korean music had been perceived both in the West and by young Koreans.
Noreum Machi essentially continues and expands the journey that Samul-Nori began. The group is led by Kim Ju Hong, a graduate of the Korean National University of the Arts. While steeped in the tradition of p'ungmul nori and its derivative samulnori, Noreum Machi has reached out to embrace elements of Western music, including jazz, and use improvisation as a key element.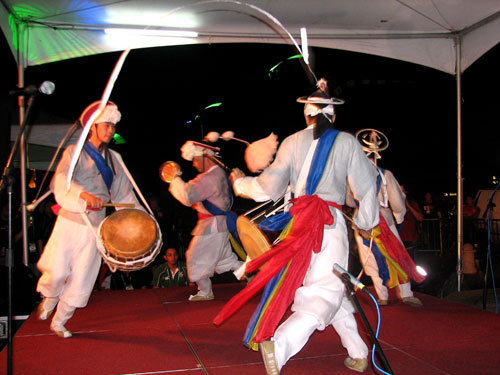 The core instruments used are the janggo, an hourglass-shaped double-headed drum that could be considered the national instrument of Korea since it is used in all forms of Korean music; the buk, a double-headed barrel drum; the kkwaenggwari, a small gong originally used in the royal ancestral shrine music; and the jing, a large gong. Other instruments used are the piri, a small eight-hole high-pitched oboe; the taepyongso, a conical oboe; and the bara, brass cymbals used in Buddhist and shaman ritual music.
The tour of Noreum Machi is made possible by a grant from the National Endowment for the Arts. Additional funding is made possible by the Mid Atlantic Arts Foundation in partnership with the National Endowment for the Arts Regional Touring program. The tour is sponsored by the Korean Arts Management Services.
This program is made possible in part with public support provided by the New York State Council on the Arts, a State agency, and the New York City Department of Cultural Affairs, in partnership with the City Council. Additional support is provided by American Express.
Peter Norton Symphony Space
Broadway at 95th Street, NYC
$25; $18 students with college ID Box office (212) 864-5400
Info/tickets: (212) 545-7536 worldmusicinstitute.org
Author:
World Music Central News Department
World music news from the editors at World Music Central