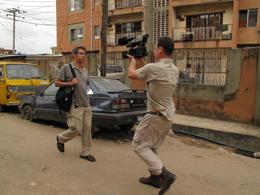 Sound Tracks: Music Without Borders, a new TV magazine show about the intersection of music with life, politics and culture around the world, premieres Monday, January 25, 2010 at 10 p.m. (check local listings) on PBS.
Dedicated to reporting unheard stories that reveal how music is transforming politics and culture around the globe, the one-hour pilot crosses three continents and serves up a diverse menu of Russian pop, afrobeat, Portuguese fado, and symphonic work. Says executive producer Stephen Talbot, "Americans love eating the food of different cultures. We want to give people that same exposure to the world's incredible music with great stories that transcend cultural barriers."
Sound Tracks is produced by The Talbot Players in association with Oregon Public Broadcasting. Emmy Award-winning Public Radio International newsman Marco Werman hosts. Werman is a renowned international music expert who, like other Sound Tracks contributors, has covered music, politics and culture for PBS' global affairs show Frontline/World.
Since 1997, Werman has produced a feature on the weekday public radio broadcast of "The World," treating 2.8 million listeners to a "Global Hit." Radio can tell only part of the story, however, even when the subject is sound. "Years ago I was reporting a story about a musician in West Africa going back to his village to start a farm," remembers Werman. "On that trip everything became so visual, I started dreaming of a TV show that would be about music interpreting the world."
The pilot episode of Sound Tracks: Music Without Borders tells four stories:
"A Man Like Putin" by Reporter: Alexis Bloom
"A Man Like Putin" is a catchy pop song that topped the Russian music charts in 2002 and went on to become an anthem for a generation. It's still played at political rallies. Two gorgeous young women sing to a driving techno beat about their president:
I saw him on the news last night,
He said the world's been "put in" a tough place,
He's easy to be with at home and abroad
And now I want a man like Putin…
Sound Tracks reporter Alexis Bloom travels to Moscow in search of the story behind the song. The songwriter, Alexander Yelin, is a Russian music promoter who took a $300 bet that he could create a mega hit without a big-ticket promotions budget. Bloom also interviews his producer and the song's performers, Irina Kozlova and Yana Daneiko, who insist that Putin will always be their ideal president and their ideal man. The story reveals surprising insights about today's young Russians, the role of pop music and the runaway popularity of "A Man Like Putin."

"Black President" by Reporter: Marco Werman
Marco Werman began his international journalism career in Africa, and returns there for Sound Tracks to cover the legacy of Nigerian music legend Fela Kuti. The story of Fela, as he is known to his fans, is the subject of the new, critically acclaimed Broadway musical Fela!, co-produced by Jay-Z and Will and Jada Pinkett Smith.
In the 1970s, Fela combined the best of American funk and jazz, mixed it with West African juju and highlife and created some of the boldest, most colorful, and most original music ever made. He railed against the brutality and corruption of Nigeria's military rulers as he toured with his band, Egypt 80. Fela smoked cannabis, married multiple wives, set up his own communal republic, and held all-night shows at his nightclub, The Shrine. He was arrested more than 200 times, and died of AIDS in 1997 at the age of 58.
After Fela's death his youngest son Seun Kuti, then only 14, stepped forward to lead the band. It was an enormous responsibility for such a young man, but many of Fela's veteran band members continue to play with Egypt 80, taking their cues from Seun and keeping the spirit of Fela alive.
In intimate interviews, behind the scenes, and on-stage, Seun shares his story and his music with Sound Tracks. "The music is the legacy," said Seun. "To respect Fela…this music has to be for some kind of change, part of some kind of positive movement."
"Oh Kazakhstan" by Reporter: Arun Rath
When virtuoso violinist Marat Bisengaliev saw the infamous 2006 movie Borat he was, like many Kazakhstanis, offended. But while the Kazakhstan government banned the film and sent their president to Washington, DC, to salvage the country's battered image, the violinist went straight to Hollywood to "even the score."
He contacted Erran Baron Cohen, brother of Borat creator Sacha Baron Cohen. Erran had composed the music for his brother's outrageous comedy, including the fake Kazakhstan national anthem which includes lyrics like: "Kazakhstan's prostitutes cleanest in the region, except of course Turkmenistan's."
Marat asked Erran to write a symphony for the aggrieved country. Erran thought it was a joke, but Marat convinced him he was serious and Erran accepted the challenge, laboring over the job for months. His soaring, fresh, provocative piece "Zere" debuted in 2009 in Kazakhstan's premier concert hall with Marat Bisengaliev as soloist.
Marat was apprehensive about performing Erran's work in Kazakhstan but he agreed to schedule the piece if Sound Tracks would film it. "Zere" was a resounding success and appreciative audience members told Sound Tracks reporter Arun Rath how much they liked Erran's symphony, and one declared that now, "Of course, we can forgive Borat." As Borat himself might put it, "benefit was made to the glorious nation of Kazakhstan," thanks to Marat and Erran's musical collaboration.
"Global Hit: Mariza" by Reporter: Mirissa Neff
Sound Tracks closes with a "Global Hit" segment, in which reporter Mirissa Neff introduces an exclusive performance by Mariza, Portugal's fado queen. Fado is the traditional music of the Portuguese soul, often sung in a bar by a woman dressed in black. Mariza performs to huge crowds and is part of a new generation of young singers who are reinvigorating the traditional style.
Author:
World Music Central News Department
World music news from the editors at World Music Central