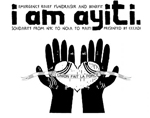 Musicians from various communities will be joining efforts throughout the next days at some of New York City's best known clubs and venues for world music and jazz. Tonight, Thursday, January 21st, the legendary SOBs is hosting Ayiti Deploge, a fundraiser with numerous local Haitian artists including Gazzman, Nia, Paola Jean, Manze Dayila, and Roger Charles. Ayiti Deploge – 100% Benefit for Haiti. The venue is located at 204 Varick St, New York, NY 10014.
On Friday, January 22nd Caribbean Cultural Center presents is hosting I Am Ayiti a fundraiser with Haitian artists including Tiga Jean-Baptiste & T'Chaka, DJ Laylo, Kalunga Neg Mawon, Jhon Clarke (formerly of Black Parents). Caribbean Cultural Center is located at 408 W. 58th Street (between 9th and 10th Avenues). More information at cccadi.org/node.
As previously reported at World Music Central, on Sunday, January 24th, Drom is hosting a show with Charanga Soleil and other notable Latin and Haitian artists. Information here: dromnyc.com.
On Monday, February 1st, The Knitting Factory is putting on a show with Amayo's Fu-Arkist-Ra with members of Chico Mann & Fela! cast members Naomi Shelton & The Gospel Queens, Rich Medina, Ikebe Shakedown. Doors: 7:00 PM / Show: 8:00 PM. $15.00. Knitting Factory Brooklyn is located at 361 Metropolitan Ave, Brooklyn, New York. More at knittingfactory.com
Author:
World Music Central News Department
World music news from the editors at World Music Central