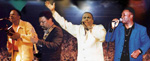 Musicians from the world music community throughout the United States will be performing benefit concerts in support of Haiti's earthquake victims. These events include The World Stands for Haiti (New York City), Haiti Mizik Relief Benefit Concerts (Miami) and San Francisco Hearts Haiti.
The small Caribbean nation of Haiti suffered a devastating 7.0 earthquake which crippled its capital, Port-au-Prince and destroyed much of Haiti's infrastructure, leaving hundreds of thousands dead or injured. Residents are still suffering aftershocks and are in desperate need of medical attention, emergency services, and basic necessities such as food, clothing, and shelter.
Haiti Mizik Relief Benefit Concerts – January 23 and 24, 2010
Miami has one if the largest Haitian communities in North America. The Haiti Mizik Relief Benefit Concerts will take place January 23 and 24 in Downtown Miami at Bayfront Park's Tina Hills Pavilion, Downtown Miami. All proceeds benefit the American Red Cross.
The concert line up includes legendary Haitian big band The Dixie Band featuring all star guests like Tuco Bouzi, members of Tabou Combo and Top Vice, Strings, Nu-look and more; Kazak International; Locos Por Juana, The Spam All Stars, Papas Loko and Loray Mistik, Suenalo, Conjunto Progreso, Afrobeta, Lanzallamas Monofonica, TapTap Band, Rara Rock and Empress Addi; Jean P Jam, Jah Fe, Mr. Pauer and more.
This concert is presented by a large group of volunteers and sponsors including The Rhythm Foundation, La Juana Productions, Bayfront Park Trust, Gigs Up Productions, Spuntino Catering, Gibson USA, 88.9FM WDNA, Miami New Times and the musicians and artists performing this weekend.
Saturday January 23rd — 4 PM – 10 PM and and Sunday January 24th — 2 PM – 8 PM. More information at: www.HaitiMizik.org
The World Stands for Haiti – January 24, 2010
The World Stands for Haiti will take place at DROM on Sunday, January 24th from 6pm to 12 midnight in New York City. The artists scheduled to perform are Charanga Soleil with very special guests Leonel "Papo" Ortega, Pepito Gomez, Luisito Ayala, Eddy Zervigon, Ray Martinez, Richard Augustin, Cedric Brooks and many more surprise artists. There will also live Haitian Drum & Dance by Markus Schwartz & Nadia Dieudonne, dance performances by Areytos Performance Works: Danielle Lima, Dalia Carella and others. DJs: Neva, Al Angeloro, Andrea and David Medina.
DROM is located at 85 Ave. A (between 5th & 6th St.), New York, NY 10009. Phone: (212) 777-1156, www.dromnyc.com. Suggested donation is $20. 100% of door proceeds will go to Partners In Health, a 501(c)(3) non-profit corporation. This event is produced collaboratively by Neva Wartell, David Medina and Mehmet Dede, on behalf of Partners In Health, with promotional support from Radio Soleil d'Haiti.
San Francisco Hearts Haiti – January 27, 2010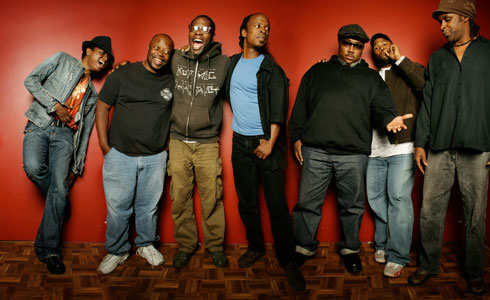 In the West Coast, the Bay Area All-Stars will play at the benefit for earthquake relief San Francisco Hearts Haiti. The event will be held January 27 at the Independent. The San Francisco Bay Area's music community has a longstanding tradition of coming together for benefit shows in times of crisis, and the Haiti quake certainly qualifies as a crisis. In its aftermath, world beat maestros (and frequent supporters of humanitarian causes) Sila Mutungi and Maisha Productions have organized a benefit concert for earthquake relief boasting some of the Bay Area's best bands and solo artists.
The show, called "San Francisco Hearts Haiti," takes place at the Independent January 27, and features Sila, Bayonics, Native Elements, Joe Bagala, Thank You Julius, and DJ sets by Jeremiah (with Afrobeat Nation), Non-Stop Bhangra, Felina and J-Boogie. This stellar lineup incorporates a diverse mix of genres and musical styles: Afrobeat, Latin, reggae, bhangra, soul, R&B, jazz, hip-hop, dub/downtempo, and more.
"We put this benefit together because Haiti is in our hearts and minds right now, and we wanted to do what we could, as soon as we could," said Sila. "While it's important to donate money for disaster relief, it's equally important to send positive vibes out to the Haitian people, to let them know that the Bay Area supports them in their time of need. There's no better way to do that than to have a show like this, with an amazing lineup." Additionally, Sila notes, for people who can't make the Independent show, door proceeds from "Sahara," his Thursday night residency at jazz supper club Coda, will also go toward Haitian disaster relief.
Added DJ Jeremiah, "When I heard about the earthquake, I immediately wanted to go to Haiti to help out. But I realized that I can do more from here. We are so fortunate to live in the United States, it's easy to take that for granted. Something like this really puts things into perspective and makes it clear that we have to give back."
Tickets for this special benefit are priced at $10 (though people are certainly encourage to donate more if they can). 100% of all proceeds from the door will be donated to the Doctors Without Borders. For a complete artist lineup, visit www.theindependent-sf.com.
Author:
World Music Central News Department
World music news from the editors at World Music Central