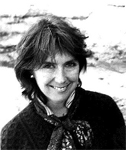 Canadian folk singer and song writer Kate McGarrigle died in Montreal, Canada on Monday January 18, 2010. Ms. McGarrigle died at her home after a long battle with cancer surrounded by her sisters Jane and Anna and her children Rufus and Martha. She was 63.
Born in Saint-Sauveur-des-Monts on February 6, 1946, Kate McGarrigle would go on to become one of Canada's beloved folk artists with the likes of Judy Collins, Elvis Costello, Emmylou Harris, Nana Mouskouri and Maria Muldaur covering her songs. Along with her sister Anna, Kate got her start in the folk coffeehouse scene in Montreal with the group Mountain City Four with Jack Nissenson and Peter Weldon. The singing sister duo got a big break with Linda Rondstadt's featured the pair's song "Heart Like a Wheel" on her 1974 album of the same name, Heart Like a Wheel.
During their career, the pair would record some 10 albums that include Kate & Anna McGarrigle (1975), Dancer with Bruised Knees (1977), Entre Lajeunesse et la Sagess (1981), The McGarrigle Hour (1998) and La vache que pleure (2003). The sisters would earn Juno Awards for the recordings Matapedia and The McGarrigle Hour and a 2006 Society of Composers, Authors and Music Publishers of Canada lifetime achievement award.
Ms. McGarrigle was also make a member of the Order of Canada in 1993. The pair is perhaps best remembered to many Canadians for their songs "Cool River," "Lying Song" and "The Work Song," as well as their version of "The Log Driver's Waltz" by Wade Hemsworth as part of a 1979 animated short film.
Ms. McGarrigle forged another folk tie when she married singer and songwriter Loudon Wainwright, III. The marriage ended in divorce but not before the couple couple produced Rufus and Martha, both would go on to forge their own paths in music. Ms. McGarrigle performed with her son in 2008 on Elvis Costello's Spectacle: Elvis Costello With… and made her final appearance with Rufus and Martha in 2009 at the Royal Albert Hall in London for the Kate McGarrigle Fund.
No announcement has been made yet on funeral arrangements for Ms. McGarrigle.
More information about the Kate McGarrigle Fund at muhcfoundation.com/mcgarrigle
Author:
TJ Nelson
TJ Nelson is a regular CD reviewer and editor at World Music Central. She is also a fiction writer. Check out her latest book, Chasing Athena's Shadow.
Set in Pineboro, North Carolina, Chasing Athena's Shadow follows the adventures of Grace, an adult literacy teacher, as she seeks to solve a long forgotten family mystery. Her charmingly dysfunctional family is of little help in her quest. Along with her best friends, an attractive Mexican teacher and an amiable gay chef, Grace must find the one fading memory that holds the key to why Grace's great-grandmother, Athena, shot her husband on the courthouse steps in 1931.
Traversing the line between the Old South and New South, Grace will have to dig into the past to uncover Athena's true crime.