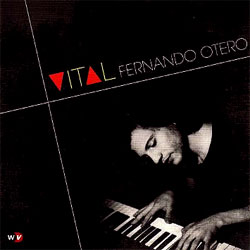 Argentine pianist, composer and bandleader Fernando Otero's new album for World Village, Vital (468094) is scheduled for release on February 9, 2010. Vital is a meditative yet emotionally refractive set of 11 modern chamber music pieces, redolent of new-style tango, twentieth-century atonality, sharp-edged downtown jazz, and other sounds Otero picked up at home and on his travels.
The opening duet for piano and violin, "Nocturno", is a limping waltz that appears to depict an insomniac's midnight musings; it leads seamlessly into two succeeding yet unrelated movements. "Siderata", scored for 6 players including a bandoneon, Argentina's emblematic squeezebox, is an exercise in stillness, like the uneasy peace that so often precedes a difficult decision.
"La Abundancia", another duet, is roundly, ripely melodic, but the wryly titled "Reforma Mental" is scored for 8 players and from its opening keyboard arpeggios, depicts a dialogue between voices in conflict, with scampering piano runs periodically overwhelmed by groaning, overbearing horns. Between them, the violin and bandoneon achieve a small universe of sonic color on "Noche Illuminata", while "Fin de Revision", belies its title by continuing to mutate and evolve until the final, wheezing exhalation.
Born in Buenos Aires to an actor and an opera singer, Fernando Otero was by age 10 an insatiable musical polyglot, multi-instrumentalist and fledgling studio innovator. Careening between rigorous classical disciplines and the freewheeling improvisations typical of jazz and his homeland's native tango, his most indelible influences included Igor Stravinsky and Béla Bartók, who also incorporated folklore into their music, and South American icons like fellow Argentine Astor Piazzola, Brazilian composer Egberto Gismonti, and Hugo Fattoruso of Uruguay.
The legendary Quincy Jones is a fan (they were introduced by actress Salma Hayek), and Otero also counts Eddie Gomez, Dave Valentin, and Dave Grusin among his collaborators. Lately, he's been sitting in with Arturo O'Farrill's Jazz Orchestra during their Sunday night residency at New York City's Birdland, and performing his own compositions with the ensemble at Lincoln Center and Symphony Space.
He has also joined clarinetist Paquito D'Rivera live at Birdland, The Blue Note, and the Caramoor Festival, and played on his Grammy-winning CD, Funk Tang. The always-adventurous Kronos Quartet commissioned a piece from Otero called "The Cherry Tree," which was premiered at Carnegie Hall in February 2008.
Buy the album:
Author:
World Music Central News Department
World music news from the editors at World Music Central