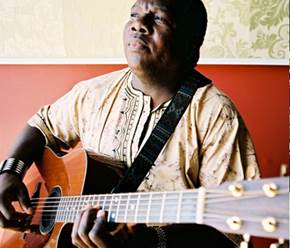 A line-up of award-winning, chart-topping and iconic artists was announced as the most public representative of South Africa's 'Country of Honour' program at MIDEM 2010. Hotshot urban act Jozi; platinum pop outfit, The Parlotones; multi South African Music Award-winner Lira; critically acclaimed hip hop act ZuluBoy; Thandiswa Mazwai; Ndebele star, Nothembi; Afro-folk veteran, Vusi Mahlasela; SAMA-nominated flautist Wouter Kellerman; live favorite Tidal Waves; Kurt Darren; and the Maletangwao Cultural Troupe are among the artists who will fly the South African flag high at MIDEM 2010.
They will be joined by Benin's Angelique Kidjo, who is widely considered one of Africa's most recognizable and gifted artists and who will add her unique flavor to a collaboration with Mahlasela among others.
"We are very excited about the artists line up which is a "fantastic" representation of South African music talent as well as the dynamic South African music delegation to France," says Department of Arts and Culture's Glenn Masokoane – Director: Cultural Development. "We want to showcase the diversity of music that is created in our amazingly rich country and we believe that the artists who have been chosen to represent South Africa will do it admirably and with great effect."
This is supported by Raphael Domalik, The Parlotones manager and CEO of Joburg-based indie, Sovereign Entertainment. "The Parlotones are very excited to return to MIDEM in 2010," says Domalik.
"We were at Midem earlier this year and now we are returning to officially represent South Africa in 2010. It's great to be part of this incredible opportunity to profile South Africa to the rest of the global music world." The Parlotones have already notched up an impressive slate of live dates and releases in Europe since 2009, underscoring their appeal to a global music market and the importance of being at MIDEM.
In an exciting development, the live performances will not be simply artist focused – but will also be presented under several themes to further add impact to South Africa's status as Country of Honour at MIDEM 2010 which is unfolding under the banner, South Africa at MIDEM 2010 Celebrating Africa's Music.
MIDEM 2010's opening showcase night on January 24th featuring a main stage and an acoustic stage is set to be the most far-reaching through its location at the Martinez Hotel, traditionally one of the hottest spots at any MIDEM and open to all delegates. The artists will be supported by a backing band overseen by Themba Mkhize.
Mkhize will also take on the role of music director at the planned VIP dinner on January 25th. The theme of the January 25th event is a Tribute To Miriam Makeba and the award-winning pianist, composer, producer and music director is planning a world first special to honour the late icon.
The line-up of live artists is further boosted by the inclusion of prolific DJs Black Coffee, DJ Christos and DJ Static Plastic who will be spinning 100% homegrown music at the various events.
Says multi award-winning Lira, "As a musician one rarely has the opportunity to be part of two major global focus points in one year. Our country is honoured both culturally and sportingly in 2010. This is possibly the most important Year for Africa in the history of the modern world – my intentions are to soar on this world stage."
Artist showcase & key event South Africa highlights at MIDEM 2010
Sunday, January 24th
Press Conference – Blue Lounge between 11:00 – 12:00
Keynote Address by Minister of Arts and Culture Minister Ms.Lulu Xingwana
The Music Industry Conference – Auditorium K, Level 4 15:00 – 17:00
Sello Galane – Maestro Musician, Academic and Entrepreneur
Sipho Sithole – Strategist, Management Executive, Distinguished Producer of multi-award winning artists, Member of DAC Advisor Committee.
Guy Henderson – Senior Vice President, Sony / ATV Music Publishing
Rob Hooijier – Director for Africa Affairs at CISAC,
Michelle Constant – Chief Executive Officer at Business and Arts South Africa
Ralph Simon – CEO, The Mobilium International Advisory Group
Mangaliso Ngema – Singer, Actor, Voice Artist, Presenter and Guitarist,
The South Africa Opening Night Party will be held at the Martinez between 20:00 – 23.30
Acoustic Stage
Ø Maletangwao Cultural Troupe
Ø Tidal Waves
Ø Lira
Ø Wouter Kellerman
Ø Vusi Mahlasela
Ballroom Stage
Ø Themba Mkhize band & Zulu Boy
Ø Themba Mkhize band and the tribute to the legends
Ø Themba Mkhize band & Kurt Darren
Ø Themba Mkhize & Nothembi
Ø Jozi
Ø The Parlotones
Ø Thandiswa Mazwai
Ø SA Dj's will be playing in between sets
26 January 2010
Tribute to Miriam Makeba, the Carlton Hotel 20:00
· Opening Song Mngoma (Accapela)
· Themba's Band & Thandiswa Mazwai
· Zenzi 3 Songs (Joly Nkomo, Ingwe Yamabala & Mama)
· Themba's Band & Vusi Mahlasela & Angelique Kidjo (Malaika)
· Zenzi, Thandiswa Mazwai, Vusi Mahlasela & Angelique (Pata Pata)
Author:
World Music Central News Department
World music news from the editors at World Music Central