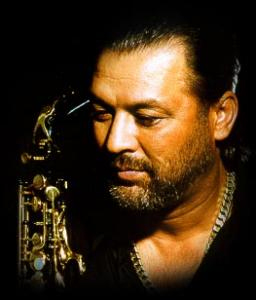 Bulgaria's famed saxophonist Yuri Yunakov, of Turkish Romani (Gypsy) ancestry will perform Saturday, January 23 of 2010 at 8:00 pm at Peter Norton Symphony Space in New York City. Yuri Yunakov has enraptured audiences around the world with his electrifying performances of Bulgarian wedding music and Gypsy music from the Balkans.
Yunakov, who performed in World Music Institute's Gypsy Caravan tour of the United States, is a magnetic leader of Romani wedding bands and a longtime collaborator with Ivo Papasov. In this program, he and his 6-member ensemble present Gypsy music from Bulgaria and Macedonia – joyful and ecstatic sounds filled with haunting melodies, dizzying rhythms and stunning improvisations.
In Bulgaria during the 1970s and '80s, wedding music was officially suppressed by the socialist government, but thrived in private settings as a means of countercultural expression. During this period Yunakov was one of the leading stars that fought to continue playing for Romani (Gypsy) and non-Romani audiences alike. The music's popularity has grown across Bulgaria, Romania, Greece, Macedonia and Turkey, and more recently has gained enthusiastic audiences and critical acclaim in Western Europe, Canada, Australia and the US.
Yuri Yunakov was born in 1958 in Haskovo, Bulgaria, and currently lives in the New York metropolitan area. A self-taught virtuoso, he comes from a family of musicians, which includes his father, grandfather, uncles and brother. His career began with his family's band, followed by the band Mladost; interspersed was a boxing career.
He was catapulted to international fame for his pioneering work in Bulgarian wedding music with Ivo Papasov, whose legendary band Trakiya attracted thousands of fans and hundreds of imitators. The band toured Europe, North America and Australia, and was featured on two Ryko/Hannibal albums: Orpheus Ascending and Balkanology.
Yunakov migrated to New York in 1994 and formed his own group, the Yuri Yunakov Ensemble, which has toured widely in Europe and the U.S., including concerts at the Smithsonian Folklife Festival, the National Folk Festival, and the Monterrey World Music Festival.
Traditional Crossroads produced three CDs of the Yuri Yunakov Ensemble: New Colors in Bulgarian Wedding Music, Balada – Bulgarian Wedding Music, and Roma Variations. In 2005, Yunakov reunited with Ivo Papasov, touring and recording Together Again: Legends of Bulgarian Wedding Music (Traditional Crossroads). Yunakov is in great demand in the Bulgarian, Macedonian, Albanian, Turkish, Armenian and Romani communities in the New York area.
This program is made possible in part with public support provided by the New York State Council on the Arts, a State agency, and the New York City Department of Cultural Affairs, in partnership with the City Council. Additional support is provided by American Express and the Trust for Mutual Understanding.
Recordings available: New Colors in Bulgarian Wedding Music, Balada – Bulgarian Wedding Music, Roma Variations , Together Again: Legends of Bulgarian Wedding Music, Orpheus Ascending, and Balkanology
Peter Norton Symphony Space is located at Broadway at 95th Street, New York City
$25; $18 students with college ID Box office (212) 864-5400
Information/tickets: (212) 545-7536, worldmusicinstitute.org
Author:
World Music Central News Department
World music news from the editors at World Music Central