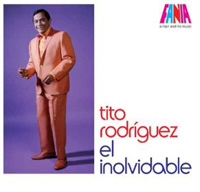 Tito Rodriguez
El Inolvidable (Fania 773-130-600-2, 2009)
Far from being simply the Latin music Tito whose last name wasn't Puente, Tito Rodriguez was a supremely skilled singer and bandleader who, along with contemporaries Puente and Machito, used to pack 'em in at New York City's Palladium Ballroom when dancing the mambo was the preferred way of spending a night out. Rodriguez was already an in-demand singer in his native Puerto Rico when he moved to New York at 16 in 1939.
Once in the U.S. he recorded and performed with a number of Latin Music luminaries before forming his own orchestra (which included such players as bass legend Cachao) and becoming one of the Palladium big three. Glory days though those were, they weren't the summation of Rodriguez' career. Through changing public tastes in Latin music, rivalries with other superstars like Puente and various further ups and downs, Rodriguez remained a top draw and bestselling album artist, dividing his time between the States and Puerto Rico (where he also became a TV variety show producer and host) until his death from leukemia in 1973, less than a month after a final triumphant performance at Madison Square Garden.
El Inolvidable is 2 CDs of his greatest works, a steaming selection of dance floor favorites, ballads and songs that have become part of many a Latin band's repertoire. A lot of what we call salsa today is rooted in the pure, joyous swing of these songs, which Rodriguez sings with all the fire, passion, soul and romance that were his trademarks through his too-short life.
Beginning with the lengthy "Esta Es Mi Orquestra," on which Rodriguez introduces his players one by one, the collection blazes straight through to a concluding trio of live tracks that includes the signature "Mama Guela." His name is sometimes curiously overlooked when greats of Latin music are mentioned, but this marvelous set shows how very prominent a place Tito Rodriguez should always have among them.
Buy the album:
Author:
Tom Orr
Tom Orr is a California-based writer whose talent and mental stability are of an equally questionable nature. His hobbies include ignoring trends, striking dramatic poses in front of his ever-tolerant wife and watching helplessly as his kids surpass him in all desirable traits.