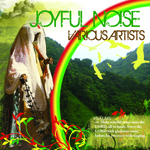 Roots reggae is alive and well. The lure of reggae has spread from Jamaica to other Caribbean islands such as the U.S. Virgin Islands. The St. Croix-based recording label I Grade Records has been producing roots reggae music since 2001. Laurent "Tippy I" Alfred is the producer and label head of I Grade Records. I Grade Records has released 20 reggae albums with artists such as Midnite, Dezarie, Niyorah, Army, Abja and others.
The label's 20th release is a compilation of roots reggae music titled The Joyful Noise. The album is loaded with deep roots reggae featuring seductive rhythm sections and powerful horn arrangements. The artists featured come rom the Virgin Islands, Jamaica, Trinidad, Guyana and Sweden. Representing the Virgin Islands are Vaughn Benjamin of Midnite, Pressure Busspipe, lyricist NiyoRah out of St. Thomas, veteran singer and producer Batch, songwriter Danny I, Sabbattical Ahdah, and Junior P.
Jamaican artists featured include Duane Stephenson, Lutan Fyah and Norris Man, and Messenjah Selah. Queen Omega and I Sasha represent the Trinidadian roots movement.
Jahdan Blakkamoore and Arkaingelle from Guyana, as well as the duo Nazarenes who are based in Sweden (by way of Ethiopia) complete the album.
The Joyful Noise is a joyous collection of fresh and compelling roots reggae music.
Available from www.igraderecords.com
Author:
World Music Central News Department
World music news from the editors at World Music Central