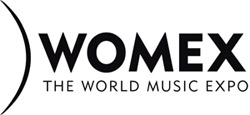 WOMEX 2010 organizers announced the dates for this year's trade show and showcases. The next edition of WOMEX, the most important international professional market for world music, will be taking place in Copenhagen, Denmark, again from Wednesday, 27 to Sunday, 31 October of 2010.
The event will be featuring a bustling Trade Fair, Conference and Showcase Festival during the 5 days. In just 15 editions, WOMEX has grown to over 2700 delegates from 92 countries and 650 exhibiting companies.
WOMEX 2009 presented 57 acts including 340 artists on 6 stages and 23 Conference Sessions, having inaugurated a new structure. Each Conference day at Bella Center highlighted a different key issue: Digital Myths, Markets and Mayhem; The Economy of Music; and Advocating for Change each presented special sessions designed to update, innovate and stimulate.
Conference speakers included Peter Jenner (UK), Will Page (UK), Eric Garland (USA), Martin Labbé (France), Carole Croella (Greece/France), John Simson (USA), Nicholas Motsatse (South Africa), Dominic McGonigal (UK), José Luis Sevillano (Spain), Bruno Boutleux (France), Xavier Troussard (France), Giorgio Angelo Maria Ficcarelli (Italy), Oliveira Escipión (Dominican Republic), Teddy Wei Jie Xu (China) among others.
In honor of the new city location in 2009 – Copenhagen – WOMEX spotlighted talent from the Nordic countries with a special all-star Opening exclusively designed for WOMEX plus an extra "Nordic Club" stage added to the Showcase Festival. All concerts were held in DR-Danish Broadcasting's new hi-profile venue Koncerthuset, offering some of the best sound conditions ever at a WOMEX.
2009 brought a new city and a new 3-year-partnership. Many of the city's key cultural players banded together to make the invitation, and then created WorldMusicFair Copenhagen (WMF CPH) to become the local production partner. First and foremost Roskilde Festival, Copenhagen Jazz Festival and Wonderful Copenhagen. The other principal members comprise the Danish Center for Culture and Development (CKU/DCCD), Global Copenhagen and World Music Denmark in cooperation with Welcome Meeting Management.
More at www.womex.com
Author:
World Music Central News Department
World music news from the editors at World Music Central