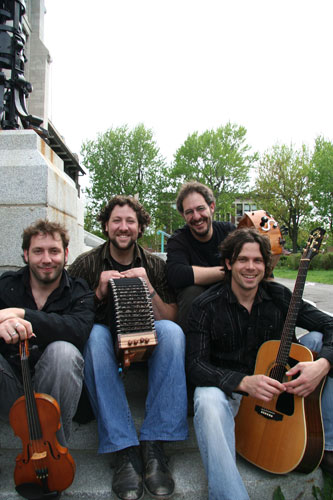 Canadian band Le Vent du Nord will be performing at the APAP 2010 showcases on Saturday, January 9, 2010, 5:30-8:00 pm, at the Hilton Lobby Bar at the New York Hilton.
With over 700 + performances and several prestigious awards including Juno Awards (Canada), Canadian Folk Music Award, Best WORLD Albums 2008 TOP 10 (PopMatters, USA), North American Folk Alliance (Trad Artist of the year 2005, USA), Le Vent du Nord is now one of the most acclaimed Quebec traditional/folk bands in Europe and North-America.
They've been welcomed all over North America and also in many European countries. They've also participated on many special musical projects with artists such as The Chieftains in Canada, Le Vent du Nord & Friends at Mémoire & Racines Festival, Studio 12 with Le Vent du Nord (CBC television & radio), Yann-Fanch Kemener, Michel Faubert & l'Ensemble Obsidienne (Radio-France).
Their special concert "Le Vent du Nord Symphonique" was presented in two different concerts series with the Portland Symphony Orchestra (USA, 2007) and Québec Symphony Orchestra (Québec, 2009).
The quartet delivers catchy songs and tunes taken from or inspired by the Quebec traditional folk repertoire while others are original compositions. The group has a rich and varied instrumentation, well polished musical arrangements, and wonderful vocals.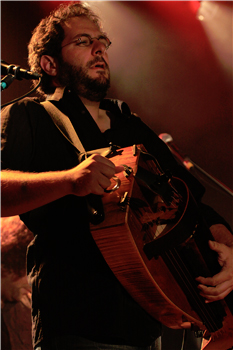 The current line-up includes Simon Beaudry (vocals, guitar, bouzouki), Nicolas Boulerice (vocals, electro-acoustic hurdy gurdy, piano, French accordion), Rejean Brunet (button accordion, acoustic bass, piano, jaw harp, voice), Olivier Demers (fiddle, feet, guitar, vocals)
The group's discography includes: Maudite Moisson ! (Borealis CD BCD151, 2003), Les Amants du Saint-Laurent (Borealis CD BCD169, 2005), Dans les Airs (Borealis, 2008), Mesdames Et Messieurs! – Live ( Borealis, 2008) and La Part du Fe Borealis/Universal, 2009).
The New York Hilton is located at 1334 Avenue of the Americas.
Author:
World Music Central News Department
World music news from the editors at World Music Central