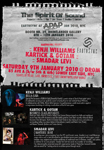 EarthSync will present a world music showcase during APAP 2010: Kartick & Gotam *Live*, Smadar Levi & Bella Gaia by Kenji Wiliams. The concerts will be held at Drom, 85 Avenue A (b/w 5th & 6th), New York City.
Kartick (Patrick Sebag) and sound designer Gotam (Yotam Agam) mix folk and traditional music with electronica & irresistible grooves from their recently album "Business Class Refugees." Kartick & Gotam Live features live mixing of music and video art, outstanding Indian musicians, Mahesh Vinayakram (vocals) and Navin Iyer (flute) and Meera Shesadri (Indian and Fusion dance).
Special Performance of Bella Gaia (Beautiful Earth) by Kenji Wiliams. Solo performance with screen of orbiting visualizations of Earth from space.
Smadar Levi is an exciting new voice emerging from the New York City world music scene. Smadar is an Israeli-Moroccan singer whose craft is best described as pan-Mediterranean music peppered with a gypsy sound. Smadar sings original and creative renditions of traditional tunes in Hebrew, Arabic, and Ladino. In addition to her own project, Smadar has lent her vocals to a number of recordings. The internationally-renowned nonprofit organization Seeds of Peace honored Smadar with an award for "uniting cultures to achieve peace through music."
APAP Presenters / Badge holders admitted for free
Set Times:
7pm Kenji Wiliams
8pm Kartick & Gotam
9:30 Smadar Levi
$10 Advance Tickets, $15 at the Door
More information:
Author:
World Music Central News Department
World music news from the editors at World Music Central