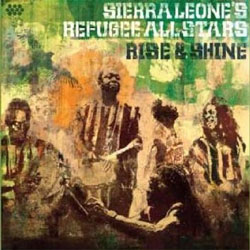 As a New Year's gift to all its friends and fans, world music label Cumbancha is sharing a track off Rise & Shine, the upcoming album by Sierra Leone's Refugee All Stars. In 2006, Sierra Leone's Refugee All Stars were introduced to the world by a moving film that documented the band's formation in West African refugee camps and the challenges they faced returning to a homeland racked by years of bloody warfare.
For the follow up to their acclaimed debut album Living Like a Refuge, the band laid down some tracks back home in Freetown, Sierra Leone, then traveled to New Orleans to work with renowned producer Steve Berlin (Los Lobos, Angelique Kidjo, Michelle Shocked, Rickie Lee Jones, Ozomatli).
Like the band members themselves the residents of New Orleans know firsthand both the bitterness of exile and the redemptive power of music. The spirit of the Crescent City permeates the album thanks to the participation of local favorites Troy "Trombone Shorty" Andrews, Bonerama and Washboard Chaz.
Download and enjoy the song "Living Stone." Rise & Shine will be released in physical and digital form on March 23rd, 2010.
Author:
World Music Central News Department
World music news from the editors at World Music Central