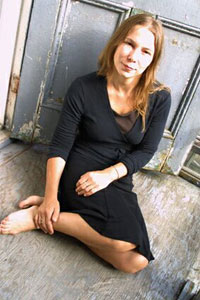 The Mexican American singer/songwriter Lhasa de Sela has died. After battling breast cancer Ms. de Sela passed away on Monday, January 1st at her home in Montreal, Canada. She was 37.
"An angel has left us," said Eugenio González of La Mar de Músicas world music festival in Spain. "Lhasa performed at La Mar de Músicas in 2004. It was her first concert in Spain. She was the hit of the festival. She presented her works The Living Road and La Llorona. A magical concert…"
Born on September 27, 1972 in Big Indian, New York, Ms. de Sela had an unconventional upbringing, largely living a nomadic life with her parents and siblings who traveled throughout the United States and Mexico in a converted school bus. This nomadic life sparked a fierce creativity and resulted in a rich musical force.
Imbued with an intensely original voice and magnetic stage presence, Ms. de Sela rose to the forefront with her debut Spanish-language recording La Llorona in 1997. Returning in 2003 with the multi-lingual recording The Living Road, Ms. de Sela continued to wow fans and audiences. Her last recording, the self-titled and self-produced Lhasa, reveled in her eclectic sum of influences. It was released in 2009.
Her struggle with breast cancer began to hamper her 2009 touring schedule, as well as a recording project featuring the songs of Victor Jara and Violeta Parra.
Ms. de Sela is survived by partner Ryan, parents Alejandro and Alexandra, step-mother Marybeth, nine siblings, numerous nieces and nephews and her cat Isaan.
Funeral services have not been announced, but are expected to remain private with family and friends.
More information:
Author:
World Music Central News Department
World music news from the editors at World Music Central