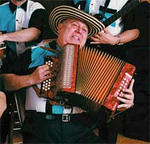 The Center for Traditional Music and Dance in New York announced the death of Colombian accordionist Eugenio Ortega. "It is with the saddest regret that I write to report of the passing of Eugenio Ortega, accordion master and founding director of the Colombian group Los Macondos," said Kaisha S. Johnson, Director of Touring Artists of the Center for Traditional Music and Dance. "On December 10, 2009 Eugenio suddenly fell ill and passed away in his beloved Colombia. It is with heartfelt sympathy that we send our sincerest condolences to Eugenio's immediate and extended family."
Listening to vallenato since childhood instilled in Eugenio Ortega a love of Colombia's national music, with its complex rhythms and passionate lyrics. As a young newlywed, Ortega would bring home records of vallenato music and listen to them obsessively, singing with them and dancing to the sounds of the accordion, caja (small drum) and guacharaca (wooden scraper).
His wife Bertica took note of his love for vallenato and in 1957, on their first Christmas together, she gave him his first accordion. "vallenatos tell real stories about real people," Mr. Ortega said, "Before there were communications in Colombia by telegraph, there used to be a man playing accordion and going from town to town – he would be singing the news."
As the population of Colombia has become more urban, the topics of vallenato songs have shifted from rural themes to more universal ones such as love and romance. By the time of Eugenio Ortega emigrated to the United Sates in 1971, vallenato was on its way to becoming the country's most popular musical form.
Ortega established a group called Colombia, Nueva York to perform his beloved music. Following the release of the Nobel Prize-winning book One Hundred Years of Solitude by Colombian writer Gabriel García Márquez, Ortega changed the group's name to Los Macondos after the fictional town Macondo, the setting of several of Márquez's stories.
Los Macondos developed a reputation as a powerful dance band, playing regional weddings, festivals, and gatherings in Queens, Long Island, and Manhattan. The group includes Eugenio's son Juan.
Over the years, Eugenio Ortega and Los Macondos performed in partnership with the Center for Traditional Music and Dance, World Music Institute and at venues such as Carnegie Hall and Symphony Space in New York City, The Smithsonian Folklife Festival in Washington, DC and most recently the National Folk Festival in Butte, Montana.
"Mr. Ortega worked with the Center for Traditional Music and Dance (CTMD) for over 25 years as a celebrated teaching artist, performer and collaborator," said Kaisha S. Johnson. " As part of the CTMD family, Eugenio traveled the country teaching others about the distinct musical form of vallenato. Eugenio dedicated over forty years of his life to performing vallenato and passing along the tradition to the younger generation. His artistry, generosity of spirit and unparalleled contribution to the preservation of this art form will forever be remembered."
Author:
World Music Central News Department
World music news from the editors at World Music Central