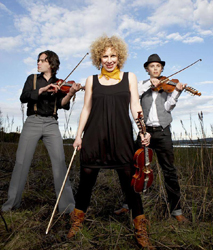 Over 1500 musicians from across the globe will visit Scotland this January to perform at Celtic Connections 2010, and throughout the festival's final weekend the spotlight will shine on Norway. Some of Norway's finest artists have been selected by Celtic Connections' Artistic Director, Donald Shaw, to appear at the festival in January, giving them the opportunity to showcase their music in front of festival fans, members of the media and music industry delegates from around the world.
Top Norwegian acts Majorstuen, Synnøve S. Bjørset, Gjermund Larsen Trio, Unni Boksasp Ensemble, Skaidi and Valkyrien Allstars will perform at Europe's premier winter music festival, as Celtic Connections celebrates the connections between Norwegian and Celtic musical traditions.
These 6 acts will appear as part of Showcase Scotland – the largest gathering of the international music community in Scotland – which provides Scottish acts with the valuable opportunity of performing in front of promoters, record labels and agents from over 20 different countries. Showcase Scotland works with an international partner each year and in 2010 will share the stage with Norway, working in collaboration with The Norwegian Embassy, The Norwegian Arts Council, MIC (Music Information Centre Norway), the County of Sogn and Fjordane and Music Export Norway to give these artists the chance to build their international profile.
Silje Førland Erdal of the Norwegian Traditional Music Agency said: "We are delighted to be the international partner in 2010. The Norwegian-Scottish partnership puts forward a significant opportunity for Norwegian artists to perform at one of the most important showcase stages in Europe, and to present their music to passionate and enthusiastic spectators eager to discover new music."
Celtic Connections Artistic Director Donald Shaw said: "We're thrilled to be exploring the kinship between Nordic and Scottish traditional music at Celtic Connections this year. Norway has a vibrant music scene, and there are some really great musicians representing the nation at the festival this year. I'm sure these 6 acts will go down a storm at Celtic Connections."
Showcase Scotland 2010 will run from Thursday 28th– Sunday 31st January, and will involve 60 artists performing in venues across Glasgow as part of Celtic Connections.
Celtic Connections 2010 runs from Thursday 14th to Sunday 31st January and features approximately 1,500 artists performing in over 300 events taking place over 18 days across 14 venues in Glasgow. The Celtic Connections 2010 program celebrates the influence of Celtic music on cultures around the world, with highlights including performances by high profile acts such as The Chieftains with very special guest Ry Cooder, Bobby McFerrin, former 10,000 Maniacs singer Natalie Merchant, Carlos Núñez, Cherish the Ladies, Buffy Sainte–Marie, Trilok Gurtu Band with special guests Jan Garbarek and Shankar Mahadevan, as well as the cream of Scottish folk talent, including Phil Cunningham, Eddi Reader, Aly Bain, Kris Drever, Dick Gaughan and Karine Polwart.
In addition to the 6 Norwegian acts performing as part of Showcase Scotland, Celtic Connections will further explore the connections between Celtic and Norwegian music with a Norwegian Fiddle Style workshop, two performances by legendary Norwegian jazz saxophonist Jan Garbarek, and a concert entitled Nordic Tone, which unites 25 young musicians from Sweden, Norway, Finland, Denmark and Shetland.
Now in its eleventh year, Showcase Scotland is organized by Active Events, and was initiated by the Scottish Arts Council and British Council Scotland to provide a platform for promoting Scottish music and artists to new audiences around the world. The international exposure that artists gain at Showcase Scotland leads to record deals and overseas touring contracts.
Celtic Connections enters into its 17th year in 2010. The focal point of Celtic Connections is the Glasgow Royal Concert Hall, where every available space is utilized during the festival, from workshops in the foyers to performances by world-class artists in the Main Auditorium. Elsewhere in Glasgow, venues such as O2 ABC Glasgow, The Tron, Òran Mór, The Classic Grand, City Halls and festival fans' favourite the Old Fruitmarket will all play host to Celtic Connections events, whilst the legendary Celtic Connections Festival Club will be held in the Glasgow School of Art's union.
Showcase Scotland at Celtic Connections: Spotlight Norway event listings
Benbecula Night and Synnøve S. Bjørset
Fri 29 January, 7:30pm
£12.50
St Andrew's in the Square
MacGregor, Brechin & Ó hEadhra and Unni Boksasp Ensemble
Fri 29 January, 8pm
£12.50
Tron Theatre
Duncan Chisholm and Skáidi
Sat 30 January, 7:30pm
£12.50
St Andrew's in the Square
The Chair and Valkyrien Allstars
Sat 30 January, 7:30pm
£15
O2 ABC Glasgow
Nuala Kennedy and Majorstuen
Sat 30 January, 8pm
£12.50
Glasgow Royal Concert Hall, Strathclyde Suite
Peatbog Faeries and Gjermund Larsen Trio
Sun 31 January, 8pm
£16
Old Fruitmarket
Author:
World Music Central News Department
World music news from the editors at World Music Central