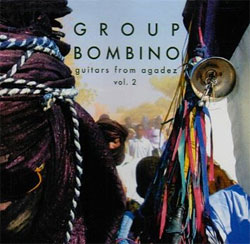 Group Bombino
Guitars from Agadez (Music of Niger), Vol. 2 (Sublime Frequencies, 2009)
Hisham Mayet, the man who compiled and edited the tracks of Guitars from Agadez Volume 2, states that "This is the music of rebellion." With the 2007 renewed hostilities in Niger, the grievances still deeply felt and Agadez cut off by the military, the Tuareg rebellion led by the Niger Movement for Justice (MNJ), the strains of uprising on this CD are couldn't be more stunning.
In the Tuareg tradition of the desert blues of groups like Tinariwen and Terakaft from Mali, Group Bombino ply their considerable collective talent through a music that serves as a rally cry for the people of Niger and mesmerizes audiences abroad. Guitars from Agadez Volume 2 is a collection from earlier recordings and live recording sessions from Agadez in 2007. It only takes a single listen to understand why this group has achieved superstar status among other groups in the Niger like Group Inerane, Hasso and Gountou.
Opening with the vivid "Tenere," complete a field recording of a reluctant camel, Guitars from Agadez Volume 2 kicks off some desert blues that rival the large label sound. Listeners get a little storytelling at the opening of "Imuhar," surrounded by a light campfire feel of lacy guitars and rolling rhythmic handclapping, while "Amidinine" come across as a folk number fashioned out of guitar and gentle vocals. At this point in the recording, Group Bombino lets loose and listeners discover the sharper edge of the group.
Going electric, Group Bombino abandons the folksy feel and attacks with pure abandon. "Boghassa" is possessed by a wickedly sharp sound, making them sound like a jam band in an underground juke joint. Kick ass guitar riff rain down and life is good. Guitarist, vocalist and leader Ghoumour Oumara Moctar (Bombino), joined by guitarists Alhassane Alwiguine (Gountou) and Adi Mohamed, bassist Kaoucen Mohamed, percussionist Ibrahim Emoud and vocalist Aminou Gusmane, evolve to the downright incendiary on "Issichilane."
"Kamu Telyat" and the sizzling "Eronafene Tihoussayene" turn the desert blues upside down with smoking guitar riffs and a dervish kind of drumming, making Group Bombino sound more like a rock group than a blues band. The effect is edgy and potent.
If the music on Guitars from Agadez Volume 2 is the sound of rebellion, then the government hasn't a chance.
Buy the CD:
Other Tuareg Recordings
Author:
TJ Nelson
TJ Nelson is a regular CD reviewer and editor at World Music Central. She is also a fiction writer. Check out her latest book, Chasing Athena's Shadow.
Set in Pineboro, North Carolina, Chasing Athena's Shadow follows the adventures of Grace, an adult literacy teacher, as she seeks to solve a long forgotten family mystery. Her charmingly dysfunctional family is of little help in her quest. Along with her best friends, an attractive Mexican teacher and an amiable gay chef, Grace must find the one fading memory that holds the key to why Grace's great-grandmother, Athena, shot her husband on the courthouse steps in 1931.
Traversing the line between the Old South and New South, Grace will have to dig into the past to uncover Athena's true crime.