Jason Wilson – The Peace Maker's Chauffeur (Wheel Records/Raspberry Jam Music, 2009)
Edward II – The Definitive Collection (E2 Music E2CD1001, 2009)
Despite the very distinctive structure that makes reggae what it is, it's still an adaptable music. Various cultures have their own takes on it, and as far as other genres with which reggae can be fused, I believe there are many possibilities yet to be explored. With regard to ground that's already been broken, may others follow in the inspired footsteps of the artists I'm going to say a few words about here.
Jason Wilson is a Canadian musician, singer and composer, and simply looking at the names of some of the guest artists on his double CD The Peace Maker's Chauffeur indicates a reggae connection. Willi Williams, Ernest Ranglin, Aswad's Brinsley Forde, and late Jamaican keyboard great Jackie Mittoo all contribute and while reggae riddims dominate the album, there's more at work here. Such is evident from the very beginning, where a burst of marching drums and bagpipes precede the title track. And that's not the only surprise. Sure, songs like "Southern Babylon" and "Warrior" echo the sentiments of any reggae rebel worth his salt, but listen closely to the lyrics throughout and you'll catch references to people, things and events (did I just hear David Lloyd George mentioned?) that are anything but typical.
There's odd source material also, from the English traditionalism of "Matty Groves," which breaks into a kind of Celtic ska for its final two minutes, to a stunning cover of Elton John's "Madman Across the Water." Soul, jazz, folk and chamber music sounds surface with unexpected delightfulness as Wilson's vocals tackle moods ranging from scorching to suave to sardonic to sedate. The two discs are respectively subtitled "War" and "Peace" and the songs they contain reflect the themes in ways that never go for the obvious. Jamaican in feel, Anglo-centric in attitude and global in scope, The Peacemaker's Chauffeur is a point where reggae converges with more than a few other world musics and all sides come out stronger for it. Highly recommended.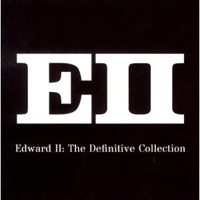 The U.K. band Edward II has been around for quite some time, though I've only recently got wind of them (which of course is my fault, not theirs). They blend jigs, reels and generally folksy-sounding melodies with reggae grooves in a way that suggests couples dancing away at some old barn gathering while a few wallflowers share a spliff nearby. The accordion-like melodeon is the most frequent lead instrument, joyously sweetening heavy drums and bass and accented offbeats that provide the reggae pulse.< While the combination can be merely pleasant, tracks like "Staffordshire Hornpipe," which sounds as if it was inspired by Augustus Pablo taking a walk through the English countryside, reveal genuine brilliance. And when dub effects, freewheeling solos and rockish energy are tossed in, it all cooks to near-perfection. The instrumental first disc of the band's two-CD Definitive Collection is entitled "The Polka Years" and contains nothing like what you'd hear at a typical Octoberfest.
The second, "Wicked Men and Ting," feels more contemporary, adds vocals and horns and is more likely to appeal to straight-up reggae devotees (not that the first one won't). Such songs as "Miles Away" and "The Wild Mountain Thyme" have that same soulful English reggae vibe that lovers of UB40 or Aswad will recognize, but there's pieces here, like the feverish "Plough the Speed" or the rhythmically tricky Afro-jazz of "Chance Melody," that sound like nothing or no one else. In marked contrast to having never heard of Edward II only a short time ago, I now count myself a committed fan. This collection is indeed definitive and indeed excellent.
Buy the CDs or MP3 downloads:
Author:
Tom Orr
Tom Orr is a California-based writer whose talent and mental stability are of an equally questionable nature. His hobbies include ignoring trends, striking dramatic poses in front of his ever-tolerant wife and watching helplessly as his kids surpass him in all desirable traits.