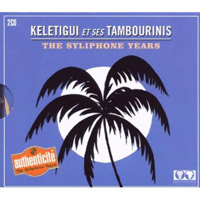 Keletigui et Ses Tambourinis
The Syliphone Years (Sterns Africa STCD 3031-32, 2009)
Independence from France in 1960 meant that the West African nation of Guinea was free to forge a cultural identity without colonial confines. President Sekou Toure's policy of Authenticite required artists of every sort to draw from traditional sources upon which to base their works, and nowhere were the results more evident than in the music of state-sponsored orchestras whose recordings, released on the country's own Syliphone music label, served as a soundtrack for Guinea's post-colonial emergence.
First to be established was the Syli Orchestre National, a super group of the best players around, which eventually split into two bands: Balla et Ses Balladins and Keletigui et Ses Tambourinis, the latter of which was under the direction of multi-instrumentalist Keletigui Traore. He and his group, which included such renowned players as saxophonist Momo Wandel Soumah and Linke Conde on lead guitar, became known for their fusions of jazz, blues and Cuban music (all regarded by the Guinean government as sufficiently African-rooted) with melodies and lyrics enriched by griot tradition, folkloric themes and the realities of everyday Guinean life.
The sound quality of the first few songs on CD 1 (credited to Orchestre de la Paillote in accordance with the name of the venue that the band regularly played) is a bit rough but a remarkable tightness and superior musicianship are quickly evident. A distinctly Latin (and even more distinctly Cuban) feel first meets your ears on songs like the trumpet-fueled "Mariama." Soon enough, though, the ring of the guitars, soaring quality of the voices and presence of no less a traditional instrument than a balafon plant it all deep into African soil.
Whether endorsing government policy ("J.R.D.A") or popping out a playful love song like "Kiss my Nose," Keletigui et Ses Tambourinis are in peak form on the 1968-76 span captured on these two discs. They survived the end of the Authenticite era that died with Sekou Toure and the military coup that followed, and to this day they still reportedly play at La Paillote with guitarist Conde leading the way after Keletigui Traore's death in 2008.
Just as preceding volumes of The Syliphone Years covered the early greatness of Guinean orchestras Bembeya Jazz and Balla et Ses Balladins, this one captures the evolving mastery of one of Africa's greatest bands.
Buy the CD or MP3 download:
Author:
Tom Orr
Tom Orr is a California-based writer whose talent and mental stability are of an equally questionable nature. His hobbies include ignoring trends, striking dramatic poses in front of his ever-tolerant wife and watching helplessly as his kids surpass him in all desirable traits.