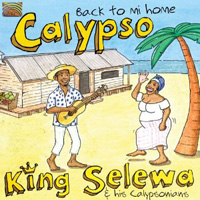 King Selewa & his Calypsonians
Calypso: Back to Mi Home (ARC Music EUCD 2231, 2009)
Calypso music has been a vehicle for shrewd social commentary, bawdy sexual entendres, tourist-trapping exoticism, hardship-exposing balladry, campy fun and a lot more besides. African-born singer King Selewa, a new artist to me, has here put together an impressively wide-ranging album informed not only by the acoustic calypso stylings of old but also by an adventurous approach coupled with a true feel for dual Caribbean and European roots.
Trinidadian-accented vocals instantly set the groove in motion on the opening "Selewa," a swaggering bit of self-promotion as good as any heard in calypso's long history of such. The focus widens for the brightly catchy title track, a bit of heartfelt Cuban homage on "Ode to Compay" (as in Segundo), an ironically jaunty feel propelling serious subject matter like "Congo War" and "Song of Freedom" and such pure dancing fun as "Caroline."
Selewa's past affiliations with ska and reggae artists are evident via a cover of John Holt's "Ridin' on a High and Windy Day" and a skanking version of the Gershwin chestnut "Summertime" complete with dub. Adding to the versatility is a palette of very fine musical accompaniment, including horns, melodica, percussion, unplugged guitar and bass, a few electric sounds for emphasis and unusually strong background vocals (some by Selewa's brother, who goes by the name of Lord Skalipsoul).
As pleasing as this disc will be to lovers of classic calypso, the unexpected subtleties that expand the sound just the right amount make it even more of a winner. Along with this year's Andy Narell/Relator collaboration University of Calypso and the recent work of Toronto-based band Kobo Town, King Selewa and his crew are proof that calypso remains alive, well and vigorous.
Buy the CD:
Author:
Tom Orr
Tom Orr is a California-based writer whose talent and mental stability are of an equally questionable nature. His hobbies include ignoring trends, striking dramatic poses in front of his ever-tolerant wife and watching helplessly as his kids surpass him in all desirable traits.