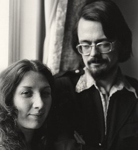 World music producer and writer John Storm Roberts died on November 29 of 2009 in Kingston, New York. He was 73.
Starting in the late 1940s, Roberts listened to music that originated far from popular Western tastes and interests of the time. He began writing about music in 1964, and documented and promoted music from countries worldwide through recordings and on the printed page. He studied languages at Oxford University, and invested years of work on African music and its relationship to American blues and rock.
Born in England, John Storm Roberts emigrated to the United States in 1970. His 1979 book, The Latin Tinge: The Impact of Latin American Music on the United States, examined the major influences of Latin styles on all forms of U.S. popular music. In recent years, the book's second edition and related volumes, such as Latin Jazz: The First of Fusion, 1900-Today, marked Roberts as an international authority in Latin music and other musical categories. He was the author of Black Music of Two Worlds: African, Caribbean, Latin, and African-American Traditions, Revised, which investigates the influence of African music on musical styles such as traditional folk, blues, reggae, and rap. Other commentaries by him appear in books, periodicals, monographs, and encyclopedias.
Roberts' research and writings were applauded for giving music a sociocultural context. In 1982, he founded a company called Original Music with its record label and catalog. For 15 years, he selected all of the records and wrote the descriptive notes. "More than almost anything else I have done," he said, "this has given me a detailed and comprehensive knowledge of music and musicians from every part of the world."
His books included: A Land Full of People; Life in Kenya Today John Storm Roberts (Praeger, 1968), Black Music of Two Worlds (Praeger, 1972), The Latin Tinge: The Impact of Latin American Music on the United States (Oxford University, 1979) and Latin Jazz The First of the Fusions, 1880s to Today (Schirmer, 1999).
John Storm Roberts summarized his life's work in his blog: "I was born in London (England) of comfortably off but honest parents, and wound up in Rhinebeck, New York. Between whiles I learned six languages to greater or lesser degrees of fluency, and published four nonfiction books (three of them on music), a handful of mystery short stories and a fair amount of poetry in my salad days."
Author:
World Music Central News Department
World music news from the editors at World Music Central