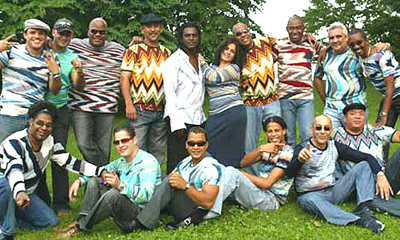 Cuba's renowned dance band Los Van Van is scheduled to perform 70 concerts in the United States. The extensive tour is planned in three stages for the coming year and could extend until 2011, said band leader Juan Formell during a press conference on Friday in Havana after presenting a documentary on the history of the group.
One or two of the concerts might also be held in Miami where a large number of Cuban emigrates reside, including extreme right wing elements who attempted to sabotage the group's concerts and physically attacked its members. "Miami has changed in the last ten years", said Formell, who stressed that the situation in that southern Florida city is much more favorable than years ago.
During the Bill Clinton administration and the first two years of the George Bush presidency many Cuban artists visited the United States but later Washington's policy against the island was strengthened and artists were denied visas to perform in the country.
Formell and his son Samuel Formell, successor of the Van Van orchestra, attended the premier of the documentary "Eso que Anda", which is a homage to the 40 years of the orchestra and covers the life of the group founded in December of 1969.
Buy Los Van Van's latest CD: Aqui el Que Baila Gana
Source: Cubarte
Author:
World Music Central News Department
World music news from the editors at World Music Central