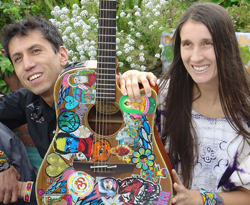 Nacional Records, the leading U.S. label for Latin Alternative music (rock, global electronica and more), has a free MP3 sampler available for download at Amazon.com. The sampler includes renowned artists such as Manu Chao, Los Fabulosos Cadillacs and Aterciopelados, as well as many of of the stars of the Latin alternative underground. Los Fabulosos Cadillacs 'La Luz Del Ritmo' and Aterciopelados 'Rio' are nominated for a GRAMMY in the "Best Alternative, Rock Or Urban Album" category.
La Luz del Ritmo is the first studio release in nearly 10 years of Argentine rock legends Los Fabulosos Cadillacs. The album was nominated this week for two Premio Lo Nuestro awards. The lead single off 'La Luz del Ritmo' was a cumbia re-interpretation of the Cadillacs' classic "Padre Nuestro" and became a new hit across radio and TV throughout the U.S. and Latin America. The band won the first-ever GRAMMY in the Latin Rock/Alternative category for their album 'Fabulosos Calavera' in 1997.
Colombian music icons Aterciopelados have released Rio, the critically-acclaimed follow-up to their Latin GRAMMY-winning album 'Oye.' While 'Oye' helped re-establish the band, 'Rio' finds Aterciopelados at a creative peak with more politically and socially-charged lyrics than ever before. 'Rio' is a true call to action – to their native Colombia, but also for Latin America and the rest of the world.
Aterciopelados recently performed at the United Nations General Assembly Hall as part of a special "Tribute To Peacekeeping" concert with a star-studded lineup of performers like Harry Belafonte, Roberta Flack and Angelique Kidjo. Among the songs they played was their human rights anthem, "The Price Of Silence," the group's Amnesty International benefit track re-worked from "Cancion Protesta.
Complete track listing:
1. Los Fabulosos Cadillacs – CJ
2. Aterciopelados – Bandera
3. Mexican Institute of Sound – Yo Digo Baila
4. Pacha Massive – If You Want It
5. Uproot Andy – Brooklyn Cumbia
6. Nortec Collective Presents: Bostich+Fussible – Shake It Up
7. Bomba Estereo – Cosita Rica
8. Latin Bitman – Help Me (feat. Francisca Valenzuela)
9. King Coya – Trocintro (Extended Version)
10. Fidel – Puerta De Oro (con Pablo Lescano)
11. Todos Tus Muertos – Mate
12. The Pinker Tones – Happy Everywhere
13. Hello Seahorse! – Bestia (Julieta Venegas Remix)
14. Tonino Carotone – Amar Y Vivir
15. Senor Coconut – La Vida Es Llena De Cables
16. Monareta – Llama
17. Eric Bobo – Chicken Wing ft. The Demigodz
18. Gonzalo Yanez – Encadenado
19. Juana Molina – Insensible
20. Sara Valenzuela – Esta Vez
21. Manu Chao – Clandestino (Live)
Author:
World Music Central News Department
World music news from the editors at World Music Central