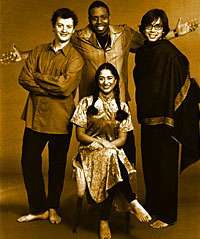 Toronto's Indo-jazz-funk fusion ensemble Autorickshaw is presenting a special concert December 3rd to mark the 25th anniversary of the Bhopal disaster. Accompanied by a host of special guests, including violinist Aleksandar Gajic of Beyond the Pale; violist Claudio Vena of Quartetto Gelato; cellist Amy Laing of the Lord of the Rings production; classical/jazz/world crossover violinist Parmela Attariwala; versatile vocalist and keyboardist Dylan Bell and noted hurdy gurdy player, percussionist and electro-acoustic artist Ben Grossman.
The band will be launching a brand new single entitled "City of Lakes," which will raise funds for Bhopal's Sambhavna Clinic, a clinic that offers hope to survivors of the disaster.
On December 3rd, 1984, toxic gas leaking from the Union Carbide pesticide plant in Bhopal killed an estimated 8-10 thousand people within 24 hours, and a further 15,000 have died since then from exposure to the gas. Another 120,000 live with chronic illnesses. It is often cited as the worst industrial accident in history, claiming even more lives than the Chernobyl nuclear disaster two years later.
For the past five years, the Sambhavna Clinic has worked to compensate for the poor follow-up treatment given to Bhopal survivors. According to the clinic, research and monitoring of the long-term health effects of Union Carbide's gases was abandoned in 1994, and treatment protocols for the survivors' symptoms were never established. Indiscriminate use of steroids, antibiotics and psychotropic drugs has only compounded the damage caused by the gas exposure.
The clinic is run by a trust managed by a group of eminent doctors, scientists, writers and social workers who have been involved in the fall-out from the disaster from the start. It offers survivors free treatment using western medicine, ayurveda (Indian vedic medicine) and yoga. It also carries out health surveys, health education and community organization for better health.
Those who wish to purchase the Autorickshaw single to benefit Sambhavna will be able to do so starting December 3rd by visiting http://autorickshaw.bandcamp.com. It will be available by donation.
In addition to raising money for the clinic, Autorickshaw has invited Amnesty International and The International Campaign for Justice in Bhopal to have information available at the December 3rd concert. Smallworld Music Productions is helping to promote the event, which is generously supported by the Toronto Arts Council, Ontario Arts Council and Canada Council for the Arts.
Bhopal Remembered comes on the heels of a six week European tour for Autorickshaw, during which the band performed at London's Vortex Jazz Club and Nehru Centre and Hamburg's Festival der Kulturen. The band – which is comprised of Ed Hanley on tabla, Suba Sankaran on vocals, Rich Brown on bass and Patrick Graham on percussion – also did dates in Ireland, the Czech Republic, the Netherlands and France.
Thursday, December 3rd, 2009
Lula Lounge
1585 Dundas St. W., (west of Dufferin)
416 588 0307
Doors: 7pm Show: 8:30 Tickets: $15
Author:
World Music Central News Department
World music news from the editors at World Music Central