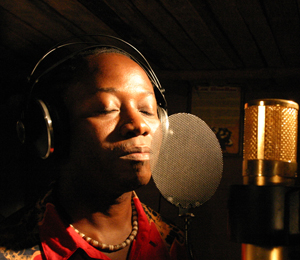 Aurelio Martinez from Honduras, the brightest star of the region's celebrated garifuna musical tradition, will make his London debut at the Union Chapel, Islington on Friday 4 December, as part of Rolex Mentors and Protégés, a three day program of public events in London. The evening will be hosted by world music expert, Charlie Gillett.
Following in the footsteps of the legendary Parranderos from the Caribbean coast of Central America, and the great Andy Palacio, with an enchanting blend of African and Latin acoustic roots, Aurelio Martinez emerges as one of the most exceptional Garifuna artists of his generation. Acclaimed for both his preservation and modernization of the Parranda musical tradition. In 2008, he was selected by the great African musician, Youssou N'Dour, to join the prestigious Rolex Mentor and Protégé Arts Initiative.
Aurelio Martinez was born into a family possessing a long and distinguished musical tradition in the small Garifuna community of Plaplaya in Honduras. He began playing guitar as soon as he was old enough to hold the instrument. By the age of six he was regularly playing drums at social gatherings. Inspired by his grandmother and his father, he gathered a vast repertoire, which later enabled him to develop his own style. He was an original member of the Garifuna All Star Band and worked and recorded with the legendary Andy Palacio. Along with Palacio, Rolando Sosa, Lugua Centeno, Chela Torres, Justo Miranda and others he recorded the Garifuna Soul album produced by Ivan Duran, a worldwide hit.
The concert is part of the celebrations of the Rolex Mentor and Protégé Arts Initiative in London in December. Founded in 2002 by Rolex as part of its global philanthropy program, the Arts Initiative brings talented young artists together with renowned figures in all fields of the arts for a year of individual guidance. Since its beginnings, 234 people from more than 40 countries have participated in the Initiative. Among the artists who have served as mentors are David Hockney, Stephen Frears, Jessye Norman, Mario Vargas Llosa, Julie Taymor and Pinchas Zukerman.
Rebecca Horn, Jiri Kylian, Youssou N'Dour, Martin Scorsese, Wole Soyinka and Kate Valk, mentors the 2008-2009 cycle of the program, will be in London in December to attend workshops, talks and performances to showcase the work of the talented young artists they have selected for a year of artistic exchange. The events, which will be held between 3 and 5 December, will take place at Tate Modern, the Theatre Royal Haymarket, BFI Southbank, Union Chapel and Sadler's Wells.
Rolex Mentors and Protégés: Aurelio Martinez & Band
Introduced by Charlie Gillett. Produced by Serious.
Friday 4 December 8 pm
Union Chapel, Compton Avenue, London N1 2XD
Tickets £7.50 + bkg fee from Barbican Box Office 020 7638 8891
www.barbican.org.uk
More about the Rolex Mentor and Protégé Arts Initiative www.rolexmentorprotege.com
Author:
TJ Nelson
TJ Nelson is a regular CD reviewer and editor at World Music Central. She is also a fiction writer. Check out her latest book, Chasing Athena's Shadow.
Set in Pineboro, North Carolina, Chasing Athena's Shadow follows the adventures of Grace, an adult literacy teacher, as she seeks to solve a long forgotten family mystery. Her charmingly dysfunctional family is of little help in her quest. Along with her best friends, an attractive Mexican teacher and an amiable gay chef, Grace must find the one fading memory that holds the key to why Grace's great-grandmother, Athena, shot her husband on the courthouse steps in 1931.
Traversing the line between the Old South and New South, Grace will have to dig into the past to uncover Athena's true crime.