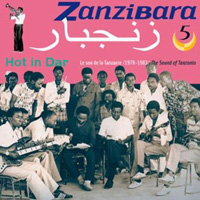 Various Artists
Zanzibara, Vol. 5: Hot in Dar – Le Son de la Tanzanie 1978-1983 (Buda Musique 860184, 2009)
During the late '70s and early '80s, Tanzania's capital city of Dar Es Salaam had a nightlife scene to rival that of any African metropolis. Numerous bands performed what came to be known simply as muziki wa dansi, or dance music, generally six nights a week. After Tanzania achieved independence in the 1960s, the country's music industry eventually came under complete state control with Radio Tanzania overseeing both broadcasts and recording.
Most of the bands included on the third volume of Buda Musique's Zanzibara series (the excellent Ujamaa: The 1960s Sound of Tanzania) evolved into unionized collectives who were paid government salaries and ceased being privately owned or sponsored. Strict as that may seem, the music itself got all the more loose and joyous, even given Radio Tanzania's limited recording technology.
Muziki wa dansi became the soundtrack to everyday Tanzanian life, as much a music that kept people tuned into their radios as dancing the night away. The first few tracks on Zanzibara 5 share Ujamaa's strong influence of guitar-heavy, horn-punctuated Congolese rumba and Kenyan benga (even sporting mid-song tempo changes called chemkos that were similar to Congolese sebenes), though by the time you get to Mlimani Park Orchestra's "Taxi Driver" and "Talaka ya Hasira," ("A Divorce in Anger") there's a noticeable funk edge to the music along with a more distinct modernizing of specifically Tanzanian roots.
The easygoing vocals are a consistent treat and the musicianship superb throughout, culminating in Dar International Orchestre's "Mwana Acha Ujinga" ("Stop Behaving Like a Fool"), where guitars and bass swirl with exacting abandon around a precisely skittering hi-hat and conga drumming as the vocals betray a hint of playfulness behind their serious tone. Zanzibara 5 is both a perfect companion piece to the third installment and a superb collection all on its own.
Buy the recording:
In North America: Zanzibara, Vol. 5: Hot in Dar. Other recordings available: Zanzibara, Vol. 1: A Hundred Years of Tarab in Zanzibar, Zanzibara 2: Golden Years of Mombasa Taarab, Zanzibara, Vol. 3: Ujamaa, Zanzibara, Vol. 4: Diva of Zanzibari Music
In Europe: Zanzibara Vol. 5 Hot in Dar, Tanzania 1978-83. Other recordings available: Zanzibara Vol. 1, Zanzibara Vol. 2, Zanzibara Vol. 3 The 1960s sound of Tanzania, Zanzibara Vol. 4 Diva of Zanzibari Music
Author:
Tom Orr
Tom Orr is a California-based writer whose talent and mental stability are of an equally questionable nature. His hobbies include ignoring trends, striking dramatic poses in front of his ever-tolerant wife and watching helplessly as his kids surpass him in all desirable traits.