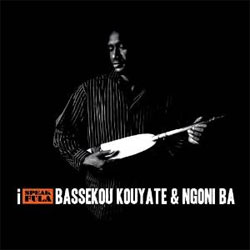 Bassekou Kouyate and Ngoni Ba
I Speak Fula (Sub Pop/Next Ambiance, 2010)
Riding high on the success of 2007's Segu Blue and his upcoming U.S. tour with Bela Fleck, Bassekou Kouyate is back with his group Ngoni Ba and their latest I Speak Fula. Mr. Kouyate, clearly Mali's ngoni master, along with his family members that make up Ngoni Ba, kora player Toumani Diabate, guitarist Vieux Farka Touré, horse-hair soku fiddle player Zoumana Tereta, griot singer Kasse Mady Diabate and his Kouyate's wife Amy Sacko, take listener by storm with I Speak Fula.
Blurring the line between his West African and American roots music, Kouyate opens with the bright and lively title track, "I Speak Fula," with such intensity and mastery that the listener is simply stunned by the group's intricate playing. Without loosening the deeply African grip over the music, Mr. Kouyate and Ngoni Ba play with the edges, finding and incorporating Western influences with seamless expertise.
The light and colorful "Jamana Be Diya"and the richly intricate "Musow" possess a stately African grace with dashes of fiery Western rock energy just under the surface. A juke joint sorrow colors the soulful blues of "Bambuga Blues," making this mournful blues number a standout track with slick guitar licks.
Thengoni>, or spike lute, considered the precursor to the banjo can sound quite delicate and lacy, but against Mr. Diabaté's intricate kora lines and in Mr. Kouyate's and his fellow band members' hands it takes on a incendiary quality with unexpected turns. Tracks like "Ladon" and "Tineni" play out the diversity of this instrument and the instrument's astonishing possibilities. "Moustapha" is simply a triumph with long lanky bluesy ngoni lines and call-and-response vocals with Ms. Sacko in the lead.
Mr. Kouyate and Ngoni Ba have bent the will of the ngoni and traditional African music and turned I Speak Fula into a dazzling musical ride.
Buy Bassekou Kouyate's releases:
Author:
TJ Nelson
TJ Nelson is a regular CD reviewer and editor at World Music Central. She is also a fiction writer. Check out her latest book, Chasing Athena's Shadow.
Set in Pineboro, North Carolina, Chasing Athena's Shadow follows the adventures of Grace, an adult literacy teacher, as she seeks to solve a long forgotten family mystery. Her charmingly dysfunctional family is of little help in her quest. Along with her best friends, an attractive Mexican teacher and an amiable gay chef, Grace must find the one fading memory that holds the key to why Grace's great-grandmother, Athena, shot her husband on the courthouse steps in 1931.
Traversing the line between the Old South and New South, Grace will have to dig into the past to uncover Athena's true crime.