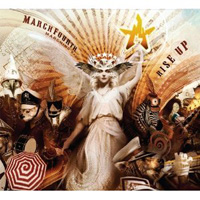 March Fourth Marching Band
Rise Up (MarchFourth Music, 2009)
You can pretty much forget everything you think you know about how a marching band should sound, look and behave. This sizable crew out of Portland, Oregon marches to the beat of their own drum. A lot of drums and percussion, actually. Plus a lot of horns, some bass and a whole lot of globally inspired lunacy. And their live performances reportedly include elaborate costumes (uniforms that are anything but uniform, if you will), equally rule-free choreography, stilt walkers and general goings-on that blur the line between mapped out and spontaneous.
Of course, none of that would mean a thing if March Fourth Marching Band (M.F.M.B.) didn't make worthwhile music. But their music is that and then some, stepping easily between New Orleans party flavors (did I mention that the group first came about at a Fat Tuesday celebration?), flights of jazzy fancy, Afrobeat-like militancy, Balkan tradition, a dose of swing, south-of-the-border whimsy that Herb Alpert wouldn't attempt on his best day and, well, let's just say that bandleader John Averill (who, on electric bass, is the only plugged-in player to be heard) apparently wasn't kidding when he stated the band's goal was to cover every possible genre of music in the world. Fair enough. It may take them another release or two to cover the ground they've skipped here, but given the versatility, skill, infectiousness and sheer strength of numbers they've got on their side, they're certainly well on their way.
So rise up and buy Rise Up. In so doing, you'll not only be helping to support Sweet Home New Orleans (an organization that's done many good works since the levees broke in 2005) but enjoying some deliriously good music as well.
Buy Rise Up
Author:
Tom Orr
Tom Orr is a California-based writer whose talent and mental stability are of an equally questionable nature. His hobbies include ignoring trends, striking dramatic poses in front of his ever-tolerant wife and watching helplessly as his kids surpass him in all desirable traits.